I N T E R V I E W S
Jump to: STUDIO 360 / WEEKEND AMERICA / WPS1 / KALW / SIGHT UNSEEN / RESONANCE FM IN LONDON / CITY IN EXILE
TO SUBSCRIBE TO THE RADIO TANIA NEWSLETTER PLEASE CLICK HERE
Current issues, events and trends in art are a jumping off point for an exploration of ideas that aren't necessarily "news," yet are provocative and offer a lens on experience that only art can provide. Studio 360 presents richly textured and emotionally resonant stories that look at art's creative influence and transformative power in everyday life. Studio 360 is a weekly show that airs nationally through Public Radio International. For times on your local NPR station, visit Studio 360 for station listings.
PIRKLE JONES
In 1956 Pirkle Jones got a call from Life Magazine for a photo assignment like no other. The farm town of Monticello California would soon be submerged under Lake Berryessa and vanish from the face of the earth. Jones joined his hero, the photojournalist Dorothea Lange, to document Monticello's final year in a series of photographs called Death of a Valley. To hear this piece, click here.
LOS CARPINTEROS
The artists in the Cuba-based collective Los Carpinteros connect with their country through their abstract multi media art. They work together as one unit yet they each have their individual roles and tasks. And most importantly, they embody many of the traits that are inherent in Cuban art, namely the innovativeness and the sense of use and re-use. To hear this piece, click here.
NATURAL CAR ALARMS
The artist Nina Katchadourian explains how she decided to transform the car alarm, and install her new version that plays tape loops of raucous bird calls in cars on city streets.
To hear this piece, click here.
Weekend America is a two-hour program service designed to fit the weekend state of mind. Barbara Bogaev and Bill Radke host the program each week from Los Angeles, inviting listeners to a lively conversation about the issues of the week, the arts, and public affairs. We have some time, on weekends, to see the world through each other's eyes. To walk in someone else's shoes a bit, and go to places we wouldn't otherwise go. Stop by for a weekly visit with 300 million neighbors. For times on your local NPR station, visit Weekend America for station listings.
WHY NOT JUST CALL ME?
How do you turn a Crate & Barrel catalog into a giant social experiment? Artist Marc Horowitz found a way and it was as simple as writing his cell phone number on a piece of paper.
To hear this piece, click here.
IMPERMANENCE
How do you manage your life knowing you're only on the earth for a short time? Filmmakers David and Hi-Jin Hodge have created a video exhibit called: Impermanence: the Time of Man. Their work is part of an international program called The Missing Peace Project. The program's purpose is to renew and revitalize global dialogue about peace. Weekend America sat down with the filmmakers to talk about how their thoughts on impermanence changed during the making of their work. To hear this piece, click here.
NOT A GENUINE BLACK MAN
As a child, Brian Copeland was noticed quickly in his San Leandro neighborhood. He was Black. His neighbors were nearly all white and many of them were heavily racist. He shares his experiences from that time in his one-man show called "Not A Genuine Black Man." Producer Tania Ketenjian joined him recently for a walk through his old neighborhood. To hear this piece, click here.
WPS1 is the world's first internet art radio station.The station's programs combine talk and music shows hosted by contemporary writers, artists and musicians with rare historic material that includes the entire audio archive of the Museum of Modern Art. WPS1 has become a live audio museum in cyberspace, extending the visual art, book, music, film, video and performance programs that P.S.1 and MoMA are known for in ways previously unforeseen. Here, at www.wps1.org, is the first all-art, all-the-time radio station, where expression of all kinds remains truly free. Shows air for one week, twice a day. San Francisco: Our Correspondent airs approximately every 2-4 weeks.
EDITION #6: Mark Horowitz
Mark Horowitz's medium is conversation, making connections with total strangers and seeing what develops. In an attempt to explain how this is art work, I said that art is meant to change your perception, meant to ask you to look at things in a different way, offer you an experience you normally don't have, and if you're lucky it affects you in a way that is both lasting and profound. Through my conversation with Mark in his RV parked outside of the Old Sears Building in San Francisco, I discovered this is what Mark does. And he has found great success in doing so.
To hear this piece, click here.
EDITION #5: Irreducible: Contemporary Short Form Video
Irreducible: Contemporary Short Form Video, was on view in early 2005 at the Wattis Institute in San Francisco. The show presented video works by artists from over 20 different countries. By bringing together recent works that were structured around a single situation, action or individual, Irreducible offered pieces that re-visit and reinterpret video created in the late 60's and early 70's when video cameras first emerged. Artists were using the camera to document themselves working or performing or, in certain cases, simply walking across their studio. The new generation of video artists tend to use the medium to create art that represents and reflects upon the social and psychological landscape of the places they are from. Irreducible includes work from Romania, Scotland, Peru, Poland, Korea, Israel, and Norway. Ralph Rugoff, director of the Wattis Institute and and curator of Irreducible, spoke with correspondent Tania Ketenjian as they walked together through the installation. To hear this piece, click here.
EDITION #4: "Noir City" and the Castro Theater
Are repertory film houses succumbing to Hi-Def TV? Host Tania Ketenjian gathers three people steeped in the experience of American art-house cinema to pump up its volume in one of the hungriest film-going cultures in the world. Anita Monga was for many years the historic Castro Theater's chief programmer and is one of the most knowledgeable and enthusiastic film historians in the west. Eddie Muller created the popular "Noir City" film festival three years ago for the historic Castro Theater. Last year, after new owners relieve Monga of her job, she moved the festival to Gary Meyer's almost equally historic Balboa Theater, its new home in San Francisco. To hear this piece, click here.
EDITION #3: Home Galleries
As Tania Ketenjian tells the story, while New York artists priced out of Manhattan were moving to Brooklyn in the late 90s, a similar spike in San Francisco real estate values forced a number of artists and made it difficult for galleries to stay in business. Almost intuitively, she says, people started making galleries in their homes. Suddenly a domestic address would become a place for openings, a home for artists of different media, and the lines between home and art space blurred.
Chris Perez created his first gallery in his Williamsburg apartment while working as an assistant curator on the 2002 Whitney Biennial, organizing a "stealth biennial" with artists he knew and admired. When he returned to his native San Francisco, he continued the practice and opened the showcase Ratio 3 Gallery in one room of his apartment, where Irish painter Conor McGrady recently had a solo show. Chris Sollars transformed his entire house, from the basement, up into 667 Shotwell, a homestead gallery that artists completely transform every month into new installations that are attracting serious collectors and crowds. To hear this piece, click here.
EDITION #2: Soy y Que: New Chicano/Latino Representations
Tania Ketenjian spotlights "Soy y Que: New Chicano/Latino Representations," one of three new exhibitions on view at San Francisco's Yerba Buena Arts Center (through January 9, 2005) featuring work by artists and collectives from California and Tijuana who treat portraiture as metaphor. Tania speaks to the Bay Area's Faviana Rodriguez, L.A.'s Shizu Saldamando, and exhibition co-curator Berin Golonu. To hear this piece, click here.
EDITION #1: Aaron Ximm & Ralph Rugoff
Bay Area correspondent Tania Ketenjian opens her debut show on WPS1 with a visit to the quiet storm of sound artist Aaron Ximm, host of San Francisco's weekly "Field Effects" concert series - flush with his field recordings - and Ralph Rugoff, curator of "Baja to Vancouver: The West Coast and Contemporary Art" at the California College of the Arts, which not only dares to reopen the East Coast/West Coast divide but attempts to redefine "regional" contemporary art in a global culture.
To hear this piece, click here.
KALW is a pioneering educational radio station licensed to the San Francisco Unified School District and broadcast at 91.7 FM. KAWL was the first FM station in San Francisco, as well as the first educational FM station in the United States, and the first station in San Francisco to broadcast NPR. Programming includes National Public Radio, Canadian and British broadcasting, as well as local productions. A Few Things Considered airs weekly on Sundays 3:30-4:00 p.m. PST on KALW.
To listen to a show, click the title of the show.
If a recording is available, it will open in a new window and begin playing.
The life of a child in the foster care system is often unstable and constantly in flux. About two and a half years ago, a bay area group decided to use art as a way for foster youth to express themselves, and use the permanence of the photo image to give foster youth a chance to gain a sense of control over their lives. The program is called fostering art, and students meet with two teachers every week for four hours at SOMArts. To learn more about fostering art, please visit Fostering Art.
The Yerba Buena Center for the Arts had an opening for their most recent show titled Big Deal. Big Deal was created as a reaction to the scarcity of availability of space that artists have. So, Yerba Buena offered several local artists their own gallery space to create large form sculpture. There was a special buzz in the room, as people observed themselves and became aware of their relationship to large pieces, and their own reaction to feeling, well, small. For more information please visit the Yerba Buena Center for the Art's site about the Big Deal and Blow Up.
As time passes and companies merge, the world of corporations is growing. Individuality is lost, creativity is set aside, and the worlds of art and corporation become all the more disparate. Pond, a collective gallery space in San Francisco, wanted to address this issue and look at the world of intervention art, art that interrupts consumer spaces forcing you to stop and think about that space. For more information about Shopdropping, please visit the Pond's Shopdropping site.
Sight Unseen speaks with artists and creators of all mediums seeking to understand what drives them to make and develop the ideas that they have and how those ideas can affect the ways in which we as listeners view the world and ourselves. Sight Unseen airs weekly on Fridays from noon to 12:30 p.m. PST on KALX in Berkeley at 90.7 FM. Sight Unseen can also be heard on Resonance FM in London on Tuesdays ay 1:30 p.m. GMT.
To listen to a show, click the title of the show.
If a recording is available, it will open in a new window and begin playing.
LORDS OF THE SAMURAI | YOKO WOODSON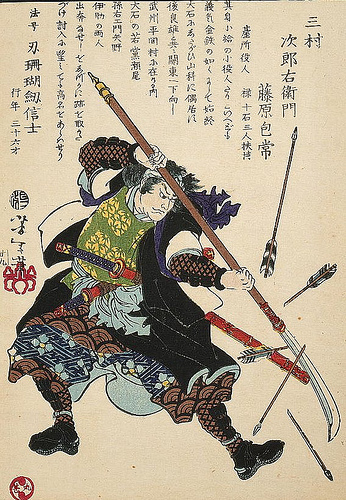 Yoko Woodson is curator of the most recent exhibition at the Asian Art Museum in San Francisco, Lords of the Samurai. The exhibition had the highest number of visitors on opening weekend than any exhibition at the museum since its opening in 1966. The Samurai are legendary holding a mysterious identity people have long been wanting to unravel. Take for instance the countless documentaries devoted to the Samurai, such as this one, that reflects upon the Katana, a Samurai sword. Or films, like Ghost Dog: The Way of the Samurai by Jim Jarmusch starring Forest Whitaker as a contemporary Samurai. Or RZA, from the Wu-Tang Clan, a seminal hip hop group who regularly identified with Samurai lords, referred to them in their music and even had collaborations with Samurai films. Needless to say, the Samurai carry a strong identity. But is that identity accurate? We get a strong sense of who the Samurai were in Lords of the Samurai which illustrates the breath of these warriors presenting what is often unknown about them. For instance, they held high positions in Japanese society and it was very important for them to not just know about weaponry and fighting but also about poetry, philosophy, culture and love. One might wonder why Samurai are in an art museum but looking at their armor and the paintings depicting their lives, flags representing different clans and even paintings that Lords made, we see just how beautiful these objects are and how much craft and workmanship has gone into them.
I AM KURIOUS ORANGE: THE FALL | ANNE COLVIN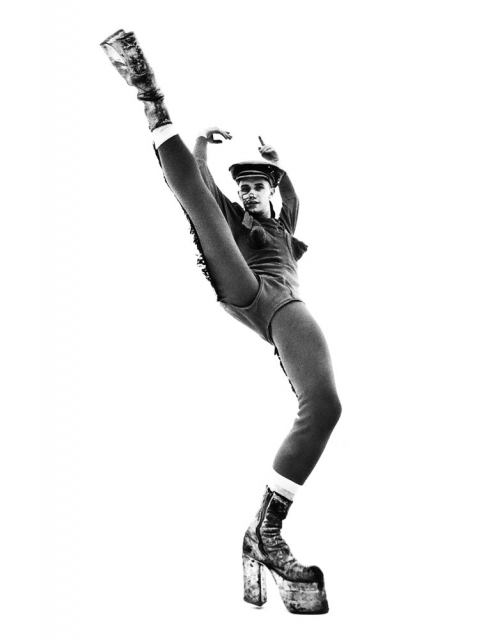 Curator and artist Anne Colvin shares her thoughts on her most recent exhibition, I am Kurious Orange. Inspired by the performance by the Michael Clark Dance company and the legendary band The Fall that happened in 1988 and was titled I am Kurious Orange, this iteration brings together an exhibition, an on-going performance, a residency and a rehearsal. The exhibition has built upon itself over the past month culminating in a final performance and exhibition that will manifest this saturday. The exhibition is at David Cunningham Projects, a gallery that from the outside seems completely imperceptible. Along a gritty street in San Francisco, is the door to this space where David Cunningham practices his love for engaging and contemporary work. There's a sense of possibility in the space of unplanned happenings, the unchartered course which seems to permeate a lot of contemporary work emerging from San Francisco. Over the course of my interview with Anne Colvin, we realized how much this show is emblematic of what is happening in the art community here—the immediacy of work, the sense of collaboration, the element of movement and the strength of performance. I am Kurious Orange includes work from William Blake, Anne Colvin and The Fall amongst others.
CONTEMPORARY JEWISH MUSEUM: CHAGALL AND THE ARTISTS OF THE RUSSIAN JEWISH THEATRE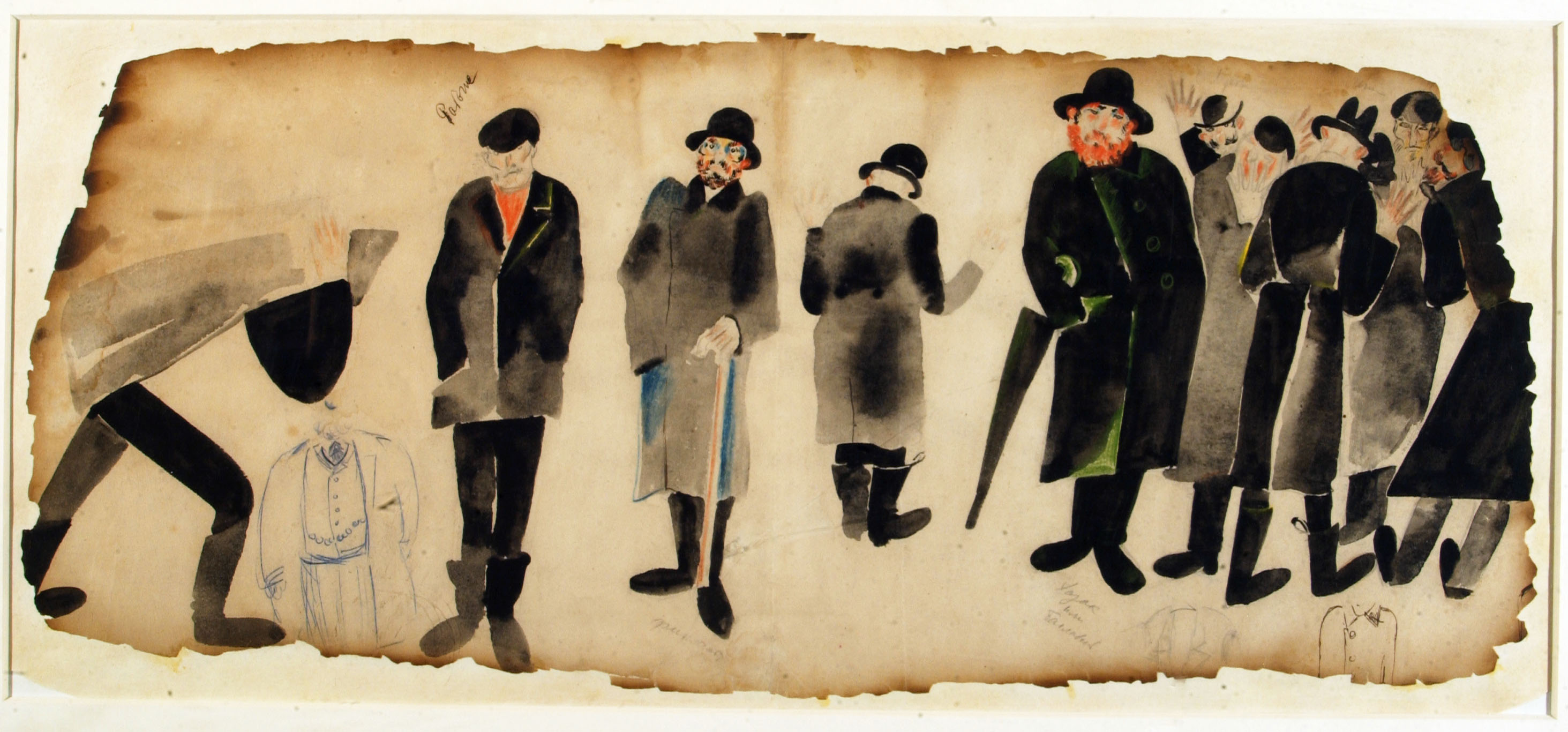 Before history books existed, the past was shared and preserved through oral traditions. Sometimes this storytelling happened within the family, the immediate community and then it would extend into the larger cultural context. Beyond sitting around a fire or a dinner table, stories were shared through theatre where people could gather and observe actors, musicians, artists and playwrights come together to reflect their experiences and pre-occupations. Chagall and the Artists of the Russian Jewish Theater, 1919-1949 presents a particularly potent time in Jewish theatre, productions that were created in the 1920s and 1930s. This was a time where leading artists like Marc Chagall, were coming together with avant garde actors, playwrights and producers to create productions that appealed to the masses. It was a time of great creativity, born out of challenge. We hear the voice of Connie Wolf, director of the Contemporary Jewish Museum in San Francisco, reflecting upon how dynamic this time in theatre was, the beauty and magic of Marc Chagall and the timeliness of this exhibit as artists today are becoming more and more innovative in the face of challenge and loss.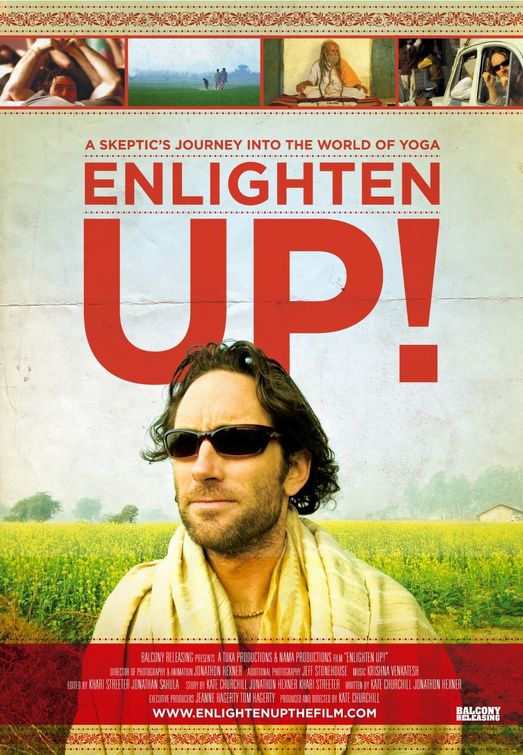 There must be hundreds of yoga studios in San Francisco. I have never taken the time to count but it seems like on nearly every other block, yoga classes are being offered. There's Jivamukti and Iyengar and Flow and Hatha and Anusara. There's yoga for kids, yoga for moms, acro yoga and even something called shadow yoga. The classes are not inexpensive and while you don't need much equipment, the accountrements are always beckoning—cute yoga pants, or a yoga top, a comfortable mat and maybe even a yoga pillow. It is only recently that yoga has gained popularity in the west and, as we tend to do here, we have really taken it to the extreme. When watching the most recent documentary from filmmaker Kate Churchill titled Enlighten Up, we are taken into yoga studios in India, which, to my surprise, were dominated by western practitioners. Isn't yoga supposed to be a spiritual practice and if so, how does the business of yoga fit in? Kate Churchill has been practicing yoga for more than a decade and while she began her practice with the intention of getting a physical workout, she found that some time into it, she began experiencing a spiritual transformation. So Kate decided to explore whether yoga had this inevitable effect. She asked an acquaintance Nick, who was completely new to yoga, to dedicate 6 months of his life to the practice, taking classes in NY, where he lived, and India, where they traveled to, speaking with yoga teachers, practitioners and experts to see if she could prove that yoga led to enlightenment. In Enlighten Up, we see Nick go on his journey and the relationship that ensues between Kate and Nick, and we observe the exploration around the beliefs and myths about yoga.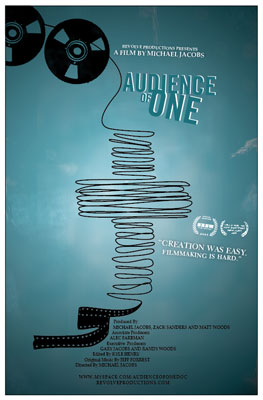 A pentecostal pastor in a modest congregation on the outskirts of San Francisco has received what he believes to be a message from God. During a moment of prayer on the top of a Eucalyptus covered hill, God has asked Pastor Richard Gazowsky to make an epic, biblical, science fiction film, the cost of which will be upwards of 100 million dollars, involving untrained actors and an untrained staff. Gazowsky turns his congregation into a functioning film studio and he forms WYSIWYG products, what you see is what you get. With the financial and emotional support of his congregation, Gazowsky attempts to make his film titled Gravity: The Shadow of Joseph, continuously reminding his staff that there is only one audience they have to think of, God. Young filmmaker Mike Jacobs learns of this story and decided to make a documentary of the making of Gravity. In a nearly cinema verite style (we hear one of his questions in the film, but just one) he follows Gazowsky, his family, the crew and slew of actors through San Francisco parking lots and Italian side streets, watching the creation of Gravity. What at first was going to be a film about filmmaking becomes a story about the limits or limitlessness of faith and how far it can take you. It also reveals the inner workings of Gazowsky, a charismatic man whose dreams seem to be out of touch with reality. This week, the voice of Mike Jacobs speaking about his film Audience of One. Here I mention to him how unsettled I felt after seeing the film and I wonder how he felt as he was creating Audience of One.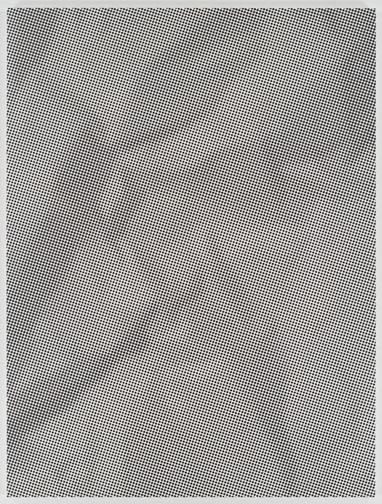 The SECA award, or The Society for the Encouragement of Art, is an award ultimately chosen by two San Francisco Museum of Modern Art curators and offered to four emerging Bay Area artists. It happens every two years and this year, the winners were Tauba Auerbach, Trevor Paglen, Jordan Cantor and Desiree Holman. It is difficult to say what emerging is today. It is even more challenging to qualify Bay Area art and according to Apsara DiQuinzio and Alison Gass, the two curators that picked this year's SECA award winners, both of those are somewhat fluid. Auerbach is from the Bay Area but she lives in NY now, Paglen is emerging but he is also very well known in certain circles. So what is SECA about and what does it ultimately represent? In this interview, the curators of SF MoMA's SECA Awards, Apsara DiQuinzio and Alison Gass speaking about Bay Area art, the Mission school and how it is to co-curate.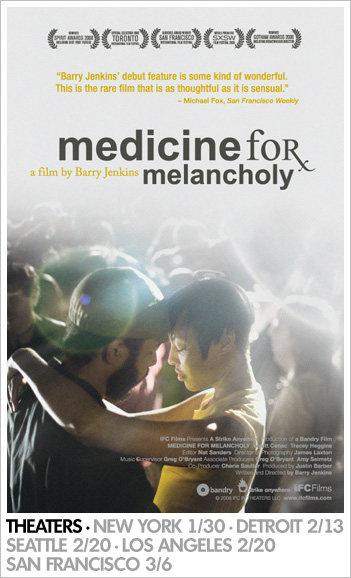 A wild party has ended and a young African American couple step out into the bright California sunlight, after a one-night stand they had just a few hours earlier. Names have not been exchanged and there is a distinct resistance on the part of the young woman, Jo, to connect with her lover, Micah. However, she leaves her wallet behind in a cab, he locates where she lives and a connection is deepened. This is the opening to Barry Jenkins' debut film Medicine for Melancholy, which looks at the the complex issues of race and class that exist in San Francisco, a city that for many proclaims a sense of liberalism and openness. Through a day and night we spend with Jo and Micah, Jenkins explores racial identity, class difference and broken hearts. He also explores the city itself, with its gorgeous hills, its majestic views, its unique quality. San Francisco is still reeling from an identity it established for itself in the 60s and 70s as a bohemian mecca but the fact is that it is the city with the smallest proportional black population of any major city in America. It is one of the most expensive cities in America to buy a home and its home owners are dominated by the middle and upper class. That said, it is still a special place. Some people who take a moment to think of these circumstances end up feeling confused by their choice to live here, just as filmmaker Barry Jenkins does. In Medicine for Melancholy, we explore these conflicts through the lens of Micah and Jo, two young black people trying to understand their geographic and emotional space.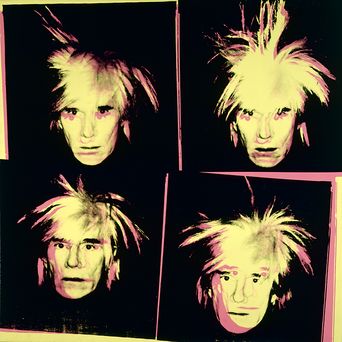 There is no question that Andy Warhol is one of the most seminal artist of our time. Aside from the wealth of work he created—films, paintings, silk screens, sound pieces—Warhol also changed the way artists created and shared work. Often seen as an elusive and arrogant figure, historians and curators have a different take: Warhol as a humanist, who gathered people together to make change. Last week, a extensive exhibition opened at the de Young Museum that looked at yet another aspect of Warhol, his influence by and on music. He loved Judy Garland and Marilyn Monroe, He was an avid Opera enthusiast, he had a sort of adoration for Mick Jagger and the Rolling Stones and he managed the Velvet Underground. He also designed over 50 album covers for a wide range of genres and designed concert posters for clubs like The Fillmore here in San Francisco. This is Sight Unseen, a weekly program that speaks with artists of all different mediums to uncover the unseen aspects of their work and exploring the ways in which they see the world. This week, Tim Burgard, curator of American Art at the de Young Museum speaks with me about Warhol Live which opened on Valentine's Day. Here, Burgard reflects on the assumptions made about Warhol's character, and how they are inaccurate.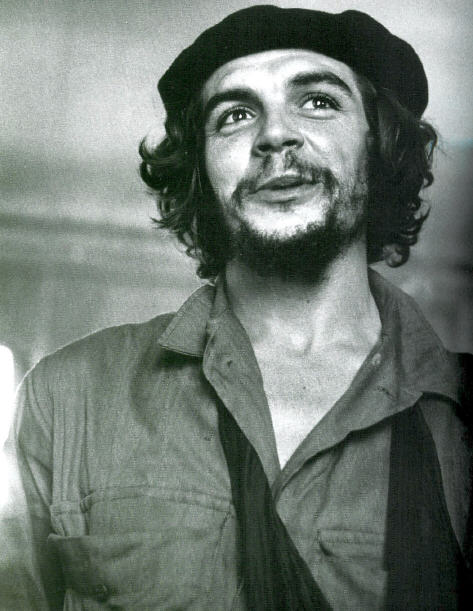 At the top of the show, the voice of Che Guevara speaking to the UN in 1964, at the height of his popularity. Listeners may not understand his words but the tone surely invokes the passion and power he carried. Since then, Che has become something of an icon. He's on t-shirts and hats, memorialized in songs and posters, he is seen as revolution itself, the voice of the underdog, and he's handsome. With his youth and his charming presence, Che is loved all over the world. But who really knows Che? When people, like Che and say Frida Kahlo move from being a person to an icon to even a brand, their true identity is lost and what they represented at the time morphs into how people want to see them and adopt them to fit their own views. This was one of the challenges Steven Soderbergh faced when he made Che, his epic film about the revolutionary who freed Cuba from a dictatorship and failed at doing the same for Bolivia. Soderbergh did not want to make a romantic movie about Che the icon but wanted to show two very specific events in Che's life and through that disclose the challenges and the unglamorous experience of revolution. Thus, the real Che is revealed away from the t-shirts and the songs.
Che is a film in two parts. Part One shows Che, played by Benicio del Toro, agreeing to partake in a revolution with Fidel Castro. We see them gather troops and take over the country, seizing power from then dictator Batista and changing Cuba into a communist country, a regime that is still standing today. Che Part Two takes us into the jungles of Bolivia where Che attempts to create a second revolution but fails and is killed in the end. The two parts are quite different from each other but they are united by one single, powerful element—that being a revolutionary is not about being a hero and being immortalized but it's about attempting to make serious change at great cost to your own life. In this show, the voice of Academy Award winning director Steven Soderbergh speaking about his most recent film Che which is in theatres in the US and UK. Here, Soderbergh explains what he wanted to include in the film and what he didn't.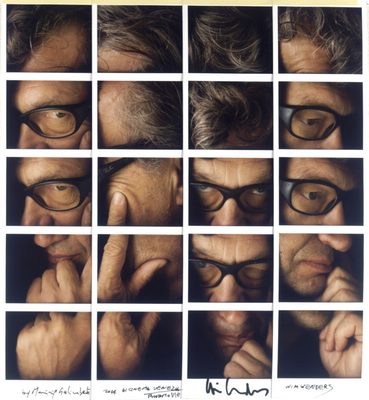 We are living a social disease. Our lives are so fast paced and our desire to succeed to so persistent that we are in a constant state of what's next rather than seeing what is. This is how filmmaker Wim Wenders sees it. Inspired, or should I say, terrified by seeing himself and others in this circumstance, Wenders made a film about well, life, or death really, placing his protagonist in a position that hopefully shakes him into seeing what is valuable rather than what is socially seen as successful. Palermo Shooting is Wenders latest creation and premiered at Cannes earlier this year. Here, in San Francisco, Wenders was awarded a lifetime achievement award at the Berlin and Beyond Film Festival where Palermo Shooting had its US premiere. It tells the story of Finn, a successful but deeply dissatissfied professional photographer, who comes face to face with death (disguised as Dennis Hopper) only to discover the complicated beauty of life in the dramatic setting of Palermo Italy. I spoke with Wim Wenders on the day President Obama was sworn into office. Here, he explains his initial relationship to Palermo.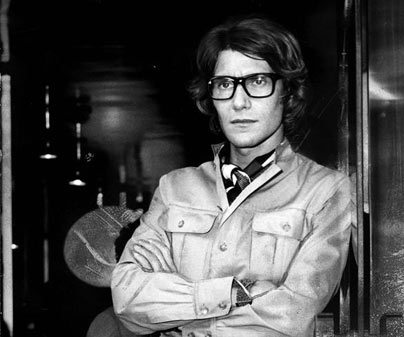 At the age of 21, Yves Saint Laurent became the director of one of the most influential atelier's in the world, Christian Dior. He was a renegade if the fashion world, breaking boundaries in design, shape, fabric and concept. Two years into his time at the Atelier, Algerian born Laurent was called into war. Lasting just under three weeks, he fell under the stress of combat, was sent to a mental institution and given electroshock therapy. During this time, he was fired from Dior. He sued for breach of contract, he won and thus began his own fashion house. It was there that all the designs we know today came into play—the pant suit, the purse with a strap, fashionable safari wear, bright colors, beatnik styles, and the acceptance that women could both be sexy and strong at the same time. He was the first to use women of color on the runway and he was also the first designer to make it into an art institution. In 1983, he was given a solo exhibition at the Metropolitan Museum of Art. Now, 25 years later, he has another solo exhibition, at the deYoung Museum in San Francisco. Here we see the extraordinary influences Laurent drew upon, such as Marcel Proust, Van Gogh, vibrant fabrics and remarkable craftsmanship and we see the magic of Laurent's vision. Yves Saint Laurent died of brain cancer last June but his legacy lives on. In this program, curator of the Yves Saint Laurent exhibition Jill d'Allessandro, speaks to how remarkable it was for Laurent to lead the House of Dior at such a young age.
SF MoMA—The Art of Participation (PART ONE)
SF MoMA—The Art of Participation (PART TWO)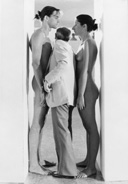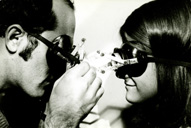 For most of our parents and grandparents, art is something to be observed, a beautiful work that either represents a scene, an experience or, with abstract expressionism, an emotion. What seems to be most important for former generations is beauty, of color, of shape. This changed with the conceptual art movement, where ideas became beautiful and the notion of beauty was far less tangible or quantifiable. But what happened in the 60s was something quite special and that is represented in a sweeping exhibition at the SF MoMA titled The Art of Particiaption, 1950 to Now. The title speaks for itself since the exhibit presents works that either ask for our actual participation or were created based on the participation of others. The show is about us, so to speak, members of the public getting involved and making something happen. Curated by Rudolf Frieling, curator of new media at the museum, the show seems perfectly timed, when the need for participation seems at an all time recent high in America. On the show, Rudolf Frieling speaking about his exhibition, The Art of Participation, which features over 40 artists and countless works of art reflecting or requesting participation.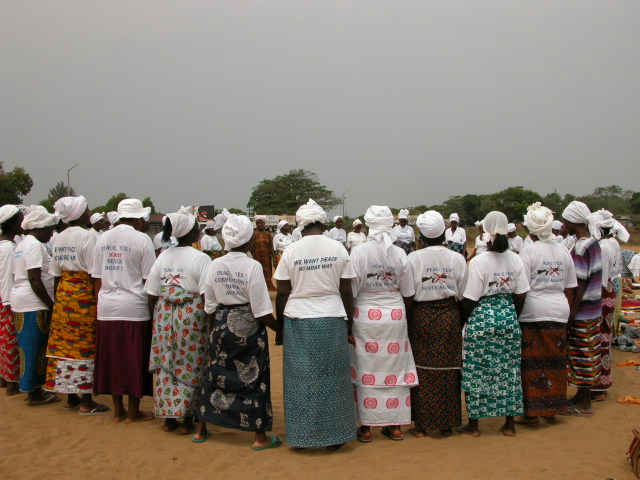 History is an interesting concept, shall we say. It is based on memories, on stories and on the act of preserving experience. Today we have so many tools to do so. We take pictures, video, we blog, we write articles, some of us even are crazy enough to do radio stories. But what happens to the stories that aren't told. Do they not exist, do they disappear, or are they asked to be uncovered by those who care. Producer Abigail Disney went to Liberia and discovered one of these stories, a history that changed the course of this blood ravaged country. She was so inspired by what she saw and determined that what she discovered had to be told so she decided to produce a documentary called Pray the Devil Back to Hell and asked GIni Reticker to direct. The story is this: In 2003, Liberia was in the midst of a very bloody and seemingly insurmountable civil war. The former President, Charles Taylor, who was Africa's leading warlord and is now an accused war criminal was leading a corrupt regime, inspiring his own people, young men in the country to terrorize Liberians, forcing them to flee their homes in an attempt to save their lives. Hundreds of thousands of men, women and children were being killed, tortured and raped and the situation was only getting worse. So a group of women stood up, claiming they couldn't take it anymore, their children were dying, their husbands were changing, their country was becoming destroyed. Thousands of women, both Christian and Muslim, came together forming a coalition group, armed with their voices and their convictions. They demanded to be heard, they generated peace talks, when those peace talks seemed like they would fail, they surrounded the Presidential Palace and ousted Charles Taylor paving the way for Ellen Johnson Sirleaf to become Africa's first female head of state. Pray the Devil Back to Hell recounts the story of these powerful women and gives viewers a sense of the power of a unified voice, the strength of womanhood and the chance to change that which seems immovable. In this interview, we hear the voices of Abigail Disney and Gini Riticker speaking about the creation of Pray the Devil Back to Hell. Here Abigail Disney shares what inspired her to create the film and what brought her to Liberia.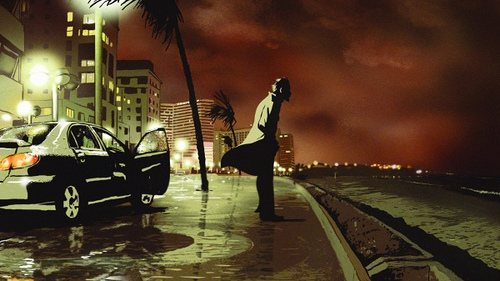 From 1975—1990, Lebanon was in the midst of a civil war. Its factions within were constantly in conflict, allies had become ememies and then once again allies. There were terrorist acts, massacres, blackouts and a city thay was once called the Paris of the Middle East was completely desecrated time and time again. That city was Beirut and my family are Armenians who lived in Beirut. My grandparents stayed in Lebanon during the civil war, always hoping and thinking that the war would end and that they would be able to return back to a life that resembled normalcy. But that did not happen and till today, Lebanon continues to struggle with itself. One of the most damaging aspects of the war was the Israeli invasion. It's a complicated history and one that cannot be recounted in a simple introduction for an interview on a radio program but Israel came into Lebanon with young soldiers now knowing what they were doing, listening to orders they couldn't reason and shooting at anything that moved. Director Ari Folman was a soldier in the Israeli Army during the Invasion of Lebanon and he witnessed a particularly bloody and shocking aspect, the massacres at the Sabra and Shatila Palestinian Refugee Camps. He wanted to make a film about the war and in particular about the complicated and intangible memories of that time. The film was made and it's called Waltz With Bashir. The premise is this. A friend comes to Ari and tells him about a recurring nightmare he is having. He dreams that 26, exactly 26 vicious dogs are chasing him through the streets of Tel Aviv. With their gnarled teeth and their menacing eyes, they threated death and torture. He never gets caught but every night the dream comes back. Ari wonders, why 26 and his friend shares that while in the Army , his commander knew he couldn't kill people so he was asked to kill dogs instead since dogs seemed to alert a town of oncoming strangers. He had killed 26 dogs in his tour with the army and these killings were haunting him. In Waltz With Bashir, Folman realizes that he has blocked out this part of his memory, particularly the part of the massacres at the Palestinian camps. So he goes on a journey, tracking down people he had been a soldier with and unearthing the stories of his time in the army. He speaks with friends, doctors, experts of Post Traumatic Stress Disorder and he also spoke with the very first journalist to enter the Sabra and Shatila camps after the massacre. Inspired by memory and emotion, Waltz with Bashir is animated. It was filmed first and then animators drew images from the film. I spoke with Ari Folman when he came to San Francisco to speak about his work. As you will hear later in the show, he mortgaged his house and took massive loans to create this film, because he had to, because he knew it wold be worth it. As a contender for the Academy Awards, he may have been completely correct. Here I mention to him that I was thinking of doing an article on the film for a paper in Abu Dhabi.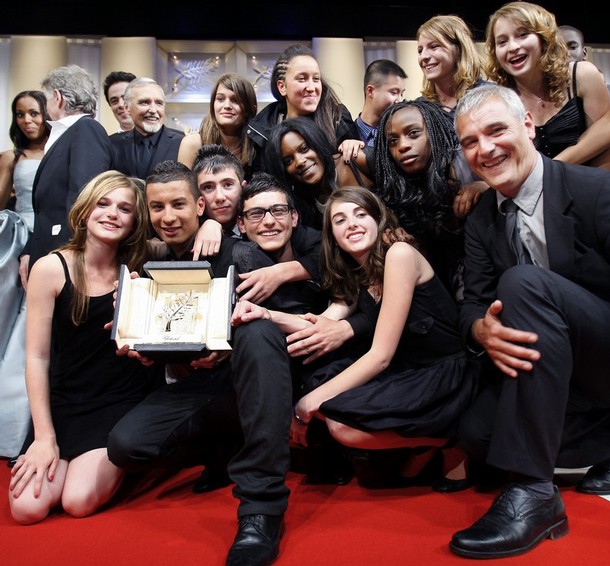 If there is one thing nearly everyone in the modern Western world is familiar with, it's school. Who can forget the experiences of a first crush, or feeling we're not learning the way other students might be, the first time we flared up in class, or a teacher that had a huge effect on us. These are all fundamental and universal experiences and they are properly observed in the film The Class by Laurent Cantet. Winner of this year's Palme d'Or at Cannes, The Class is a fiction film based on a real classroom in inner city Paris. Laurent Cantet did not set out to make a documentary but the style of the film seems just like one. His actors are real students, real teachers and while the scenes are orchestrated, much of what we see is steeply based in truth, in what really goes on in a classroom at a public school where racial diversity exists, where students are trying to define themselves and where hormones and emotions run high. Laurent Cantet had always wanted to make a film about junior high and wondered how he would do it. Then he fell upon François Bégaudeau's book Entre Les Murs which chronicled his own experiences as a school teacher. This inspired Cantet to make the film and cast Bégaudeau in a role he was familiar with, the teacher. Interestingly, he both wrote the book and starred in the film that Cantet directs. The Class becomes not only a reflection of what happens in the classroom but a microcosm of French society itself, the challenges, the diversity and the necessity for equanimity. We hear Laurent Cantet speaking about his film, The Class which won the Palme d'Or and is the contender for this year's Academy in foreign film. I wondered if Cantet's own experience as a student led him to create this film.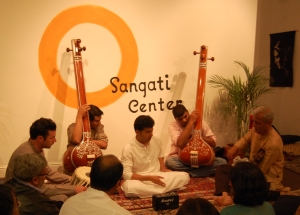 The Sangati Center in San Francisco brings together world reknowned Indian classical musicians in a small space on a tree lined street that can easily be missed. Like many treasures in this city, it has to be excavated and because of that, it feels like a discovery every time one goes to see a concert there. Founded in 2006 by Gautam Tejas Ganeshan, the Center plays host to musicians from all over the world who find themselves in this calming, red and yellow walled room, sitting before an audience, doing what they love most, music. Ganeshan himself is a performer and while he studied philosophy and was tempted to become an ethnomusicologist, he decided to fly west, as many do, and follow his dreams to be a performer. Finding that there weren't places he liked to perform, he decided he would create the ideal space and found this one on a corner in the Mission. Sangati means to coming together in Sanscrit. Last week, after Barack Obama won the election, the streets in San Francisco were filled with music and dancing, people coming together to celebrate. Music is a form of celebration, it both engenders and reflects joy and emotion. And while the Sangati Center may not align itself with a historical event such as that one, in small but potent ways, it may offer some of the same feelings that were experienced on November 4th. First, a song played at the Center earlier this month by Anantha R. Krishnan. The instrument he is playing is called Mridangam.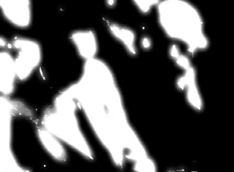 For most of his life, artist Jordan Essoe has known that he didn't want to have children. After meeting his partner and getting married at the age of 25, he decided he wanted a vasectomy. Now, four years later, in an exhibition titled strictfathermodel, he has chronicled the experience in a 99 day multi media show where we see, amongst other things, a detailed video of the vasectomy itself and a series of paintings Essoe made with his semen, both pre and post operation. What is our role as humans, is it to procreate? And when we relinquish that role, are we letting go of a fundamental part of beimg alive. How did Essoe feel about his choice and how can making art around such a lasting and powerful decision effect the way you see that choice. In this interview I had with Jordan Essoe, we explore what fatherhood is, the fundamental impetus to procreate and the irrevocable choice to change your body. Here, Essoe shares the story behind the image that opens his catalog, a picture of a beach in Acapulco.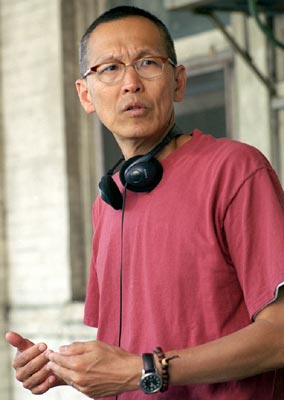 Wayne Wang, director of such films as Smoke, The Joy Luck Club and Maid in Manhattan, amongst others, is releasing his latest film on YouTube. Yes, YouTube, the seeming free for all, place any video you want to site. Some time ago, when a couple posted a feature length film they produced to great YouTube accalaim, they decided to create a space where filmmakers, aspiring and established , could premiere and show their films. That space is called The Screening Room and Wayne Wang is the most prominent filmmaker to be showing a film in that space. It represents a whole new dimension to the life of independent filmmakers, and, needless to say, it is extraordinarily contemporary. Much like Radiohead posting their album for free, established filmmakers can do the same, boost their viewership and thus their possibilities in the future. The film is part of what Wang calls a diptych. It's called The Princess of Nebraska and it's being released alongside another film that is oming out on the thetre called A Thousand Years of Good Prayers. Both films are based on the short stories of Granta award winning author Yiyun Li, exploring the bonds of family and Chinese identity in the Modern world. Princess of Nebraska does just that as it looks at a young woman who travels from Nebraska to San Francisco to have an abortion. Impregnated by a friend she was just having fun with the week before she left China for America, the young woman is confused and she spends an eye opening night in San Francisco, empowered by more information to make the choice that is best for you. Shot with DV cameras and in a somewhat lo-fi way, the film is perfect for the format it is being premiered on and Wang is excited to be releasing two films at the same time in very different medias.
RED POPPY ART HOUSE (PART ONE)
RED POPPY ART HOUSE (PART TWO)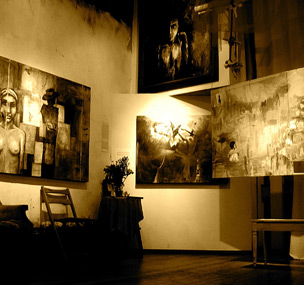 The Red Poppy Art House sits on the corner of a main thoroughfare of San Francisco, Folsom Street, a wide street, lined with beautiful, massive trees, victorian houses, bodegas, playgrounds, vacant lots, and, on one special corner, a unique art space. I fell upon the Red Poppy when I first moved to San Francisco, to hear the work of Pablo Neruda, right after the 30th anniversary of his death. The Art House had a series of events, a book launch, concerts. And then some more indescribable ones, consisting of dancers and artists, of performances one could not re-create. It seemed almost like a lab, with its warm lighting, its inviting presence, its undefinable and almost intagible nature. The Red Poppy has now become a premoer location in San Francisco for artistic innovation, where artists from all over the world, come to play music, engage with each other's work, learn, teach, have residencies and simply live as artists, creative minds seeking connection. In a highly institutionalized and structured art world, spaces like the red poppy are becoming much more rare and thus more valued. And now Red Poppy has been chosen by Yerba Buena Center for the Arts for a residency where they will have a series of events exploring "The Living presence of Space", looking at the power that small spaces hold as vibrant centers where artists gather, create and make their home, thus the Red Poppy Art House. I spoke with Todd Brown, founder of the Red Poppy Art House, Meklit Hadero, co-director and resident artist and Caleb Duarte, a resident artist at the affectionately called Poppy.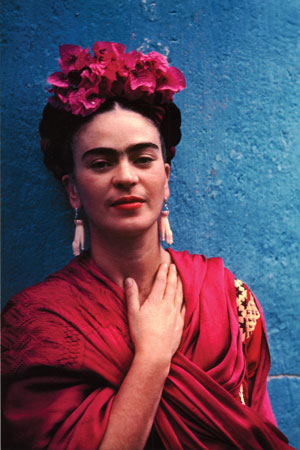 Frida Kahlo may be the most reproduced artist ever, or as curator John Zarobell notes, she definitely is in the top ten. She is surely an icon, her open hearts and her serious gaze, her vibrant colors and her notorious relationship, her sublime beauty and her pained physical existence, all of these are known and all the more felt when one looks at her paintings. We see her on the covers of journals, as pins, t-shirts, magnets, people like to dress like her and there are even groups that imitate Frida. While she didn't create art to be used as a consumerist commodity, she has been adopted by people around the world as a mirror of their inner turmoil and as a beacon of female power. The current exhibit at the San Francisco Museum of Modern Art takes us on a journey through her life, in fact, it was co curated by her biographer and we see Frida as she saw herself in her work. We also see the actual Frida Kahlo through a large collection of photographs. In this interview, the voice of John Zarobell, co curator of the Frida Kahlo exhibit at the MoMA in San Francisco. In this conversation, we look at why this exhibition has a particular resonance in San Francisco, what makes the work so powerful and how Frida was seen as a female artist in her time.
CHRIS AND DON (a documentary about the love between writer Christopher Isherwood and artist Don Bachardy)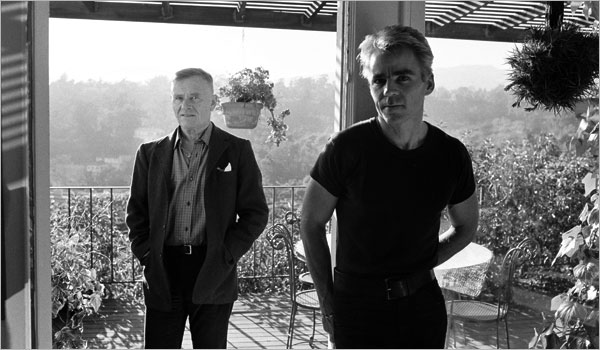 In the early 1950s, a beautiful and, some say, controversial love affair was blossoming. Two men met on a beach in Los Angeles and soon fell in love. They were Christopher Isherwood, acclaimed british author, and well known intellectual and the virtually unknown and significantly younger Don Bachardy. They were 30 years apart in age, they were gay and they were open about their relationship at a time when homosexuality was still very much taboo, even in California. However, what ensued was a 30 year relationship, that only ended with Isherwood's passing and a love story that any couple would want to emulate. Isherwood was the author of Berlin Stories, A Meeting by the River and over twenty other works of fiction and translations. Bachardy is an internationally known artist. This context inspired filmmakers Guido Santi and Tina Mascara to make a film about the love between Isherwood and Bachardy titled Chris and Don: A Love Story. The core of the film is the love, respect, friendship and comraderie between these two men from disparatre backgrounds and different generations. But beyond that is the extended community around Chris and Don, the filmmakers and artists, Tennessee Williams, Raymond Carver, WH Auden, Leslie Caron, Liza Minelli and loads of other well know literary and film figures. There is incredible archival footage of all of these. And of course the art work created by Bachardy himself, decades of portraits that he continues to create today. In this interview, I spoke with filmmakers Guido Santi and Tina Mascara and artist Don Bachardy about the film Chris and Don, about Don's memories of Chris and about the intimacy of portraiture, amongst other things.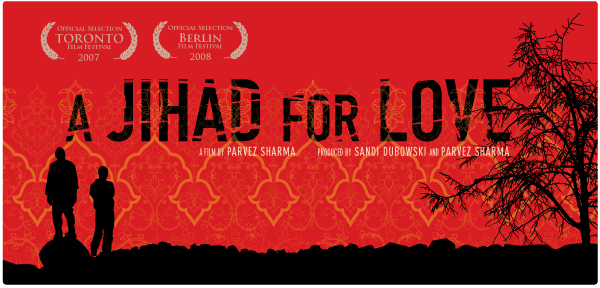 Islam and homosexuality have never mixed well. the Qu'ran very clearly condemns homosexuality leaving muslim gay men and women to feel a deep conflict. When everything that you have grown up with is in direct opposition to how you feel, a deep tension arises and in that comes suffering. Parvez Sharma was a journalist before he decided to make a documentary and travel to 12 different countries to explore this issue. Over the course of six years, A Jihad for Love was created and that film has now come to San Francisco just in time for Pride week. Sharma himself is gay and muslim, open about his sexuality and committed to his religion. As he points out in this interview, Islam isn't just a religion, it's a culture, a way of living, a language, a sense. To turn away from that is to turn away from so much of what makes up ones foundation. In this film, we see the stories of many men and women exploring, struggling with and making conclusions about their culture and their sexuality. The honesty and nakedness of A Jihad for Love is precisely what has made it a world reknowned film, bringing the discussion of homosexuality and Islam into the forefront. In this interview, we speak about the actual term Jihad, its original meanings and the way it has been transformed over the last few years.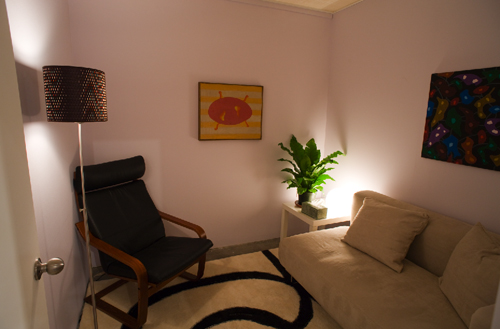 San Francisco probably has the highest number of therapists per capita in the US. I haven't checked that fact but given the nature of this city and its residents, it would not surprise me if that were true. It further doesn't surprise me that an artist might explore that phenomena and eight years ago, artist Josh Greene did just that by opening what he called an unlicensed therapy office. It was opened in the Mission district and it garnered a regular clientele but it was soon shut down. Real therapists were not pleased. I mean, what about the thousands of dollars and hours they spent on their education! However, the office has been revived in an exhibition titled Amateurs that is at the Wattis Institute in San Francisco. Curated by former Wattis Institute director Ralph Rugoff, Amateurs presents either collaborations with amateurs or work created as amateurs. Unlicensed Therpay fits perfectly in this description. But this is hardly all JoshGreene has done in his artistic career thus far. He has put his apartment up for sale, he has sold money for less than its value, he has represented the artistic process in gallery spaces, and we speak about all of these in this interview we had at his unlicensed therapy office at the Wattis looking at the ephemeral nature of his work, the sometimes boring therapy sessions he has had and whether being an artist has proven to be the right choice for him.
NOTE BY NOTE: The Making of a Steinway L1037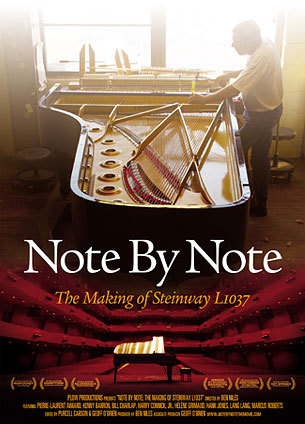 One cannot deny the fact that in the western world, we live in a mass production culture. The notion that something can and is handmade seems tremendously outdated. With the influx of technology and its promises of speed and efficiency, it almost seems illogical to make something by hand. That was the first thing that caught filmmaker Ben Niles by surprise when he read an article about the Steinway company, a 150 year old company that has been making each of their pianos, and tuning them, by hand since their inception. The skill it takes to make a grand piano is extraordinary, let alone the time—a full year. In the newly released film Note by Note, Ben Niles tracks the process of making a Steinway L1037. We travel through the factory, with the men and women who craft these fine objects, we observe the characters of the pianos, of the masters that play them and we return to a time where the piano was a galvanizing force, central to the family and community, a time before technology, and we re-visit the strength and potency of craft and the individuality of an object.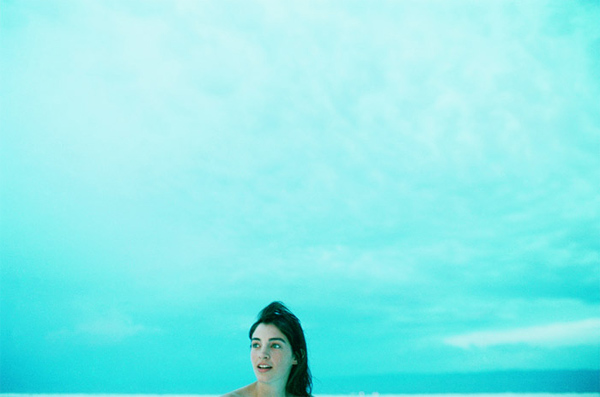 In 2001, when I was living in the East Village of New York City, I was talking a walk through the tree lined streets, a stroll really. I wasn't headed anywhere in particular and so I wasn't concerned with time. I happened upon a conversation with a young man, sitting on a stoop, reading a book. He was strangely aloof and intriguing and there seemed to be no agenda on either of our parts. We were just engaging in a conversation for this particular period of time We spoke for two hours and then I never saw him in person again and it didn't matter. That wasn't the point. A few months later, I was looking at the photographs of Ryan McGinley, an artist who later would be the youngest perosn to have a solo show at the Whitney Museum of American Art, and in it was that young man I spoke with, Eric, laying next to a friend, looking passed out, on a ruffled bed, its sheets seemingly in card for, an arm above his head, stopped in a moment of time, much like we were on that stoop in the Fall of 2001. Ryan McGinley has since gone one to win prestigious awards, to show his work in all parts of the world and in international magazines. He has done several series of works for the New York Times and the New Yorker recently commented on his current exhibition, I Know Where the Summer Goes, and I am paraphrasing here, as nearly perfect. Spring and By Summer Fall is McGinley's latest exhibition and it is here in San Francisco at Ratio 3. When walking into the light filled space, one is struck by large and small color photographs of young and supple and naked men and women jumping through the air, standing against cliffs, being embraced by bears, standing in fields, living and experiencing what seems like an utterly carefree existence. McGinley has often observed young people as they let themselves go, be it with drugs or sex, at concerts or in water. There's always this sense of release and in that release a deeper sense of mystery and surprise. It is this surprise element that McGinley tends to be attracted to. In this interview with Ryan McGinley, he speaks about the work at Ratio 3, about the element of fantasy, about the medium of photography and about being an observer. I spoke with Ryan at the gallery as they were setting up for the show so you may hear some noise in the background.
PHILIP WOOD and CITIZEN: CITIZEN—PART ONE
PHILIP WOOD and CITIZEN: CITIZEN—PART TWO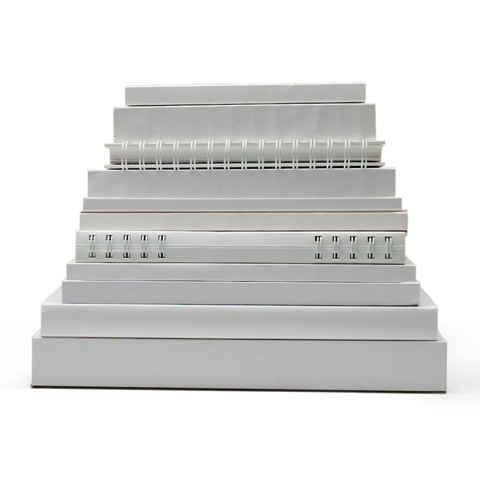 Philip Wood, creative director and founder of the internationally recognized art and design company Citizen: Citizen, grew up and lived in a small town on the South Coast of England until he was 34 years old. Thomas Hardy's birthplace, Dorchester, nurtured his craving for beauty and history but left him hungering for a culture he couldn't find there. He became a woodworker, designed and manufactured furniture, opened a furniture and interiors store, then opened a retail clothing store and then left all of this in 2002 to travel the world for a year. He was on a quest to discover what he truly wanted to do in life, where he wanted to live and how. He is now in San Francisco, and by his account, he seems to have found just that. As he recently said while leaving the launch of "Untitled", one of his latest products, "I look at projects like this and I think to myself there is nothing else in the world I would rather be doing." Citizen:Citizen was initially established in 2004 with two partners, one of whom Philip had known from his days in England, a friend and colleague whom he believed saw the world in similar ways that he did. And that is precisely what Citizen continues to be founded upon, ways of seeing. In 2005, Citizen took a journey across the states, this time with one owner, Philip himself, and a curatorial vision that continues to manifest itself. It is nearly impossible to describe what Citizen is exactly and at the same time it is simply one thing, a landscape within which objects live to inspire thought and engagement enhancing the way we see and live our daily lives. Philip is the curator of the collection of objects ranging from books, to jewelry, to vibrators, to tables, to ceramics. He manufactures these objects and retails them in stores across North America. Some of his works are in galleries and museums. Beyond that, Citizen offers a whole host of experiences, from virtual galleries to national events, interactive e.mails to blogs. I spoke with Philip Wood at his home in San Francisco, a home filled with furniture he made himself in his former incarnation.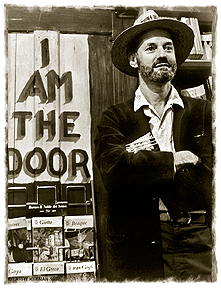 It was 1994 when I first learned of Lawrence Ferlinghetti's work. Even though I had lived in San Francisco and had visited the bookstore and publishing company he had started in 1953, City Lights Books, it was until a very close friend from NY suggested I read A Coney Island of the Mind. Just the title itself was enough to enchant, the idea of Coney Island, a coastal place of all sorts, walking down a board walk with images of hot dogs and the zooming sounds of roller coasters. The reality of Coney Island is fantastic enough. To actually make it a place of the mnid seems even more extreme. This collection poems is seeing its 50th anniversary this year and for that reason, I had the opportunity to interview Lawrence Ferlinghetti the day before he was slated to leave for Italy and France. He's 89 years old, he has lived in San Francisco for 57 years, he published Allen Ginsberg's HOWL, he created the center for the beats, he was San Francisco's first poet laureate, there is a street named after him , he has traveled the world, he saw the destruction of Nagasaki, charred bodies, that changed his idea of politics and the "truth" forever. I visited Lawrence Ferlinghetti at his home in North Beach, a quintessential San Francisco neighborhood that still has the energy of another time, with its winding streets, its Italian trattoria's, and, at its center, City Lights Books. Ferlinghetti's most recent book of poetry is titled Poetry as Insurgent Art and in this interview, part one of two, we visit the power of poetry, the evolution of political action, and what it feels like to be 89 years old.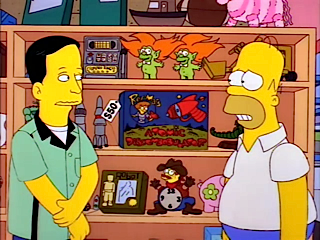 Filmmaker, writer, actor, cinematographer, artist, collector and producer John Waters has always been a performer. When he was in highschool, he put on puppet shows for kids and later, finding himself a bit bored by the cleanliness of the shows, decided to throw in some blood and guts....He knew what his calling was from early on and he had the community and the stamina to bring his calling to fruition. His first film, Hag in a Black Leather Jacket, was made when he was 18 years old but the film that made him infamous was the one that came 8 years later, Pink Flamingos. In preperation for this interview, I watched Pink Flamingos for the first time having heard it countlessly referenced but never really knowing what it was about. I was shocked, truly shocked. I wondered how a filmmaker who had directed a 200+ cross dressing actor to bend down and eat dog feces had become so famous, and now, almost, just almost mainstream. What makes Pink Flamingos and all of John Waters' subsequent films so special is not the shock effect (one that comes naturally to Waters). One of the things that makes his work stand out is the compassion in them, the sensitivity, the sense of comraderie. and all of this is reflected very much in his character. The latest incarnation of John Waters is Hairspray. It was first made by him in 1988, it then turned into a huge Broadway hit and now he has executive produced the remake of the film. Needless to say, John Waters has surely developed since his earlier films that were made on the smallest of budgets and consisted of a cast of characters that were his friends. The thing is that, as much as he could, John Waters did things his way, and this, along with so many other talents, makes him one of the best filmmakers today. Recently John Waters has had a more recent incarnation, that of artist and art collector. His new show titled, Reckless Eyeballs, is a reflection of some of John Waters' social fascinations. The work in the show, most of which is photography but also includes a sculpture and two sound pieces, looks at the world of film, of art, and of politics. Waters holds no punches and the show is irreverent and hilarious and poignant. It is at the Rena Bransten gallery and I spoke with John Waters at the gallery.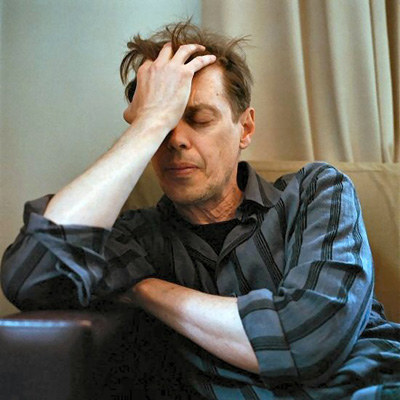 Steve Buscemi has been a fixture in the independent film circuit for nearly 20 years and has been acting for most of his life. He has over 100 acting credits to his name, he has written, produced, been part of soundtracks and directed. His most recent film, Interview, which he both directed and stars in, marks the first in yet another foray of Buscemi's, bringing the films of assassinated filmmaker Theo Van Gogh to the screen. You may remember the violent death of Theo Van Gogh at the hands of an Islamist fundamentalist in the streets of Amsterdam. Theo Van Gogh was shot and then nearly decapitated, a 5 page note was attached to his body with a knife. Theo Van Gogh was quite vocal about his anti Islamic sentiments yet the backlash that he received seemed to shock the world. Now, in his memory, Steve Buscemi has created the film company Triple Theo and will re-create three of Theo Van Gogh's films. Interview is the first. Steve Buscemi was born in Brooklyn NY, his father was a sanitation worker, his mom a hostess at the local Howard Johnson motel. Before he began his acting career, Buscemi was a NY city firefighter in Little Italy, NYC for four years. He joined the experimental theatre company The Wooster Group and his acting career grew. Steve Buscemi often plays neurotic characters, full of angst and frustration. He is a permanent fixture in films by the Coen brothers but the role that really put him in the spotlight was that of Mr. Pink in Reservoir Dogs. Buscemi's character in Interview is not neurotic but quite persistent. The story is this: Pierre Peders, a war reporter for a Washington newspaper is asked to do a fluff piece on a well known b actress, the reason being that his "facts" in his political pieces have not been very reliable. Uninterested and frustrated with this assignment, he does nothing to learn about the actress who gets extraordinarily frustrated herself. What ensues is a seeming cat and mouse chase in the actress' loft where each party reveals more or maybe less than they would like to. The film is disquieting and uncomfortable and memorable. I spoke with Steve Buscemi while he was in San Francisco promoting his film, Interview.
The term architecture has become quite broad in the 21st century. Not only do architects break boundaries in the notions of how to design a building but architecture is not just about structures but it's about space as well. The term architecture is used to describe the structure of a thought, an action, and empty space itself. Henry Urbach is the curator of design and architecture at the San Francisco Museum of Modern Art and he is constantly exploring this notion of space through exhibitions he organizes. His interest in architecture began as a child but while studying a variety of mediums and disciplines during his years in school, he realized that architecture encompassed much of what interests him—social structure, beauty, history and decided to explore it further. He opened a gallery in New York called Henry Urbach Architecture, the first of its kind to exhibit architecture in the four white walls of a gallery space. After 10 years of that, the SF MoMA invited him to San Francisco and it was an offer he couldn't refuse. In this interview with Henry Urbach, we discuss space, community, public and private spheres and why the new buildings that are coming up in downtown San Francisco leave something to be desired.
Last week, I went to see a dance performance from ODC, or Oberlin Dance Company. Although San Francisco is one of the epicenter's of dance in the US, I rarely go to see dance performances. I think, maybe I won't get it but after seeing the performances from ODC, I discovered it's not about getting anything, it's about having an extraordinary experience. Brenda Way has been dancing since she was 3 years old and dance has always been a means of expression for her. But at the height of the 60s, when political and social movements were high and boundaries were being broken in the arts, Way realized that movement could mirror and further express her political ideals. Trained as a formal dancer, she began breaking new ground while living in NY. She was invited to Oberlin College to teach and that was when she started the Oberlin Dance Collective, ODC. She came with the collective to San Francisco in 1976 with 16 people. She now is the co-director of ODC Dance Commons, a 33,000 sq. ft space, with 180 classes a month, 200 performances a year, and above all else, a deep sense of integrity, community and strength, the ideals she started with in the 60s.
Lee Friedlander, photographer and artist, was born in Washington State in 1934 and discovered photography early in his life. He was inspired by Robert Frank and Walker Evans, truly American photographers who observed and captured American life. With this in mind, Freidlander took a different path in a similar genre, adding irreverence and humor to his work, a very witty and seemingly unself conscious style that became the inspiration for many great photographers to come. Friedlander was one of the first to elevate the snapshot to an artistic work. And he snapped all kinds of things, people at parties milling about, himself in a hotel room or a shop window, women in the street, NY scenes, workers, models, nudes and his family. There's a strength in the playfulness of these images, a sense of exploration, freedom and the discovery of a love—Friedlander's love for the medium of photography. Two years ago, the Museum of Modern Art in NY put together an extensive retrospective of his work. That show has come to San Francisco. Today on the show, the words of senior curator of photography Sandra Phillips speaking about the exhibition aptly titled Friedlander which takes us on a journey through his work from his earliest days to now.
FLYING: CONFESSIONS OF A FREE WOMAN—PART ONE
FLYING: CONFESSIONS OF A FREE WOMAN—PART TWO
This week, I watched a series of documentaries that I didn't realize would change the way I looked at the world, at gender and at myself. But it did. I had read about the series in the New York Times several months ago. The article explained how a woman took a camera all over the world filming herself and other women talking—sharing stories, observing their lives, revealing their thoughts and experiences around sexuality, relationships, choices and fears. I was immediately intrigued so when I heard that the series was coming to San Francisco, not only did I have to see it but I wanted to interview the filmmaker. So I did. Here, youwill be listening to the words of filmmaker Jennifer Fox whose film, Flying: Confessions of a Free Woman is opening across the country and the world. Flying takes viewers on a trip to NY, South Africa, Germany, England, Pakistan, India and 12 other countries inviting us into the intimate spaces and lives of women Fox met on her travels. The inspiration for Flying was that Fox realized that women speak differently than men, especially when brought together. Beyond that, Fox was, well, a seemingly free woman, unmarried, without children and in her 40s. So different from many of her counterparts, this left her wondering who she was as a woman, wasn't she supposed to be married and what was the universal experience around not just sharing stories but understanding ones womanhood. Flying: Confessions of a Free Woman is playing this weekend at the Yerba Buena Center for the Arts in San Francisco.
Daria Martin has shown extensively around the world in the few years that she has been making films. This year alone, she will be in a touring solo exhibition in Chicago, New York and Los Angeles. Her work has been seen at the Tate in London and in galleries and museums all across Europe. She writes, speaks and performs and now she is teaching as well, Daria Martin was once a painter but turned to film for many reasons, one of which is that she loved its collaborative qualities, the fact that the creation of a film is not a solitary experience but one that includes not only a multiple of people but a vast variety of references and mediums. She is from the Bay Area but is now living in London, working as an artist and teaching at Oxford. She is having a brief stint here at the California College of the Arts, teaching, ironically, in the sculpture department. She initially came to the University by invitation from Jens Hoffman, director of the Wattis Institute and former director of the Institute of Contemporary Art in London. That was where he learned of Martin's work and invited her to present some of her films at the Wattis Institute. A professor took a leave of absence from CCA and wanted Martin to fill the spot for the semester. It was in the sculpture department and although a filmmaker, Martin associates sculpture with film in that, much like film, sculpture has a structure that moves, at least in our eyes, since we are doing the moving so to speak. Even though film is a two dimensional medium it has a 3 dimensional sense. In her course, Martin is exploring the internal sculpture of film not only physically speaking but sensically as well as she observes and shares with her students the ways in which film can offer senses beyond sight and sound. I spoke with Daria Martin in her 1940s flat where she is living temporarily that is right across from the CCA campus.
The myth of the Academy Awards seem to loom much larger than that of any of the festivals including Cannes or Sundance. Winning an Oscar is the ultimate achievement in filmmaking. So it came as no surprise to see the joy and excitement on director Stefan Ruzowizsky when he was doing the rounds across the country for his film The Counterfeiters, nominated for best foreign language film. The Counterfeiters did in fact win an Oscar for Best Foreign Language Film however I spoke with Ruzowitzsky when he was nominated. Based on a book by Adolph Burger, it tells the true story of largest counterfeiting operation in history, set up by the Nazis in 1936. The film opens with Salomon "Sally" Sorowitsch, master counterfeiter, who minutes into the film is captured by the Nazis and later put to work, with a group of other prisoners, to create false British sterling and American dollars. He does so with great precision and in so doing saves the lives of him and his co-workers, so to speak. But his work helps those who are killing his people as a concentration camp with dire conditions exists behind the walls of the counterfeiting operation. Stefan Ruzowiztsky tells the tale simply, starkly and skillfully.
When Paul McCarthy first started working as a performance artist in the mid-1970s, he was inspired by the Vienna Actionists, performers who used blood and excrement in their work. McCarthy himself did several pieces in which he replaced blood and excrement with ketchup, mayonnaise and chocolate sauce. In a piece titled 'Penis Painting', McCarthy paints with his penis, and in others with his head and his feet. He poured ketchup on his genitals and had them disappear between his legs in a piece called "Sauce" and In Sailor's Meat, from 1975, he copulated with raw meat, dressed in lingerie. In 'Class Fool' (1976) McCarthy threw himself around a ketchup spattered classroom and inserted a Barbie doll into his rectum. Some people may claim, "what is artistic about that" but the essential foundation of work for McCarthy is that it change your perception. And these pieces surely changed the immediate perception of ones existing environment. One would never guess when looking at McCarthy that he chose to push boundaries in this manner. He stands at about 5 foot 8, a long white beard, rounded fingers, jeans and a fleece jacket. He's a grandpa and he uses Santa Claus in his work but there is nothing square or reserved about the sculptures and performances McCarthy has been involved in. When the Wattis Institute approached Paul McCarthy to do a show, he decided to create a group show that reflected the memories he had of his early work. The exhibition Low Life, Slow Life: Part 1 has opened at the Wattis Institute in San Francisco and it is based on a series of lists McCarthy had compiled over the years—lists of artists, works and events he valued. In its entirety, it will ultimately include the work of 35 artists from such well knowns as Andy Warhol, Yoko Ono and Marcel Duchamp to seemingly more obscure artists such as Paul Cotton, John Heartfield and Allan Midgette. Part 1 looks at McCarthy's early years, investigating his student years in Salt Lake City to his early career in the Bay Area during the 1970's. In 2009, Part 2 will address his work from the mid-70s to today.
The Yerba Buena Center for the Arts is presenting At The Origin of Performance which chronicles the life of postmodern dancer and performer Anna Halprin through videos of her dance performances around the world, images of her daughters, drawings made by her students and, for me, most affecting of all, a series of photographs of Halprin herself in her 80s. It's a series in which she melts into the elements of the California coastal environment. In one shot, she has covered her entire naked body, from head to toe, in molasses and hundreds of fine bits of tree bark as she becomes a chameleon with a redwood. In another shot, she is wrapped in a white fabric, moving with the frigid Northern California tide, like a long piece of white kelp that has found itself on the shore. How does a woman in her 80s so fearlessly engage with the world around her. Well, Ms. Halprin is hardly a fearful person. She was one of the first people to ever use nudity in dance, to contemplate death through performance and to combat her own disease with cancer through movements and approaches she created herself. I spoke with Anna Halprin when she was at the Yerba Buena Center for the Arts previewing the exhibition created in her honor.
In the early 1900's, 99% of children in America were born at home. Today, 99% of children here are born in hospitals. The most fundamental aspect of life, birth, has had a diverse and at times shocking history. From such things as twilight sleep, a process employed in the 1930s that drugged women and restrained them during childbirth to the use of Thalidomide in the 1950s that led to serious birth defects, to the current dramatic rise in c-sections, women have been struggling to fight for a sense of empowerment around this very basic right—to have a child. In the 1970s, during the women's movement in America, a sub-movement was happening around birth where home birth was being encouraged and a culture of home birthers developed. However, these women were far from the mainstream and the choice was still viewed as an outlandish one. Now, childbirth, the medical establishment and the impeding fear of lawsuits and insurance companies has brought the issue of empowerment around childbirth to the forefront and people across America are voicing their frustrations and confusion around the process of giving birth. The Business of Being Born is a documentary by Abby Epstein and Rikki Lake and it brings the discussion of childbirth to the mainstream spotlighting the challenges women face in a hospital setting and the strength of homebirth as an empowering and very possible choice. Rikki Lake is famous for her roles in John Waters' films and as an American talk show host however after giving birth twice—once in the hospital and once at home—she discovered something that had great meaning for her, the movement around delivering babies in America. So she made a film and it is reaching across america to sold out theatres. The Business of Being Born looks at the hospital industry, looks at the role of midwives in American society, it follows the births of several women and reveals a history that is shocking to many who have not researched this topic.
LAUGHING IN A FOREIGN LANGUAGE
Laughter and humor are fundamental binding experiences. One cannot underestimate the joy felt at a baby's first smile, the connection we have when we laugh with a stranger or the sense of comraderie that humor establishes between friends. When it comes to art work, humor allows for an entry way into understanding what often is a deeper, possibly darker message. This is quite true for contemporary art where ore often than not a piece makes you laugh through its title or subject matter. Some find this infuriating, wondering why they can't get the joke while others simply enjoy the process of enjoying themselves. Laughing in a Foreign Language curated by Japanese native Mami Kataoka and is being shown at the Hayward Gallery in London. It is a group show with over 80 works of art, all centered on one central there, laughing. It opened on the 25th of January and runs through April, 2008 and while seeing the show would be brilliant, the concept of it raises enough questions and ideas to explore in contemporary art, which Mami and I did in this coversation. I spoke with Mami Kataoka when I was in London in early January. Under our conversation are the sounds of a video piece at the Hayward. We spoke about the duality of humor, the notion of the outsider, and how she actually found all these works.
Gannet has a disability called Mowat-Wilson Syndrome which essentially means that his right and left brain have trouble communicating and thus he can't really integrate what he sees and hears. He drools, he has trouble eating, he can't speak and it's sometimes hard for him to see. But one thing he definitely does do is enjoy sound, enjoy life and people, and express love. When filmmaker Robert Arnold first met Gannett, it was through his friends from the Art Institute where he had studied. Robert's friends who were painters and musicians and sculptors were also caregivers and some were taking care of Gannett. You would see them in the neighborhood, a young, hipster looking type, walking slowly with a disabled person. It was already unusual to see a disabled person on the street. Here in America, and possibly in most of the western world, disabilities are not necessarily public and thus our comfort level with disabilities is shallow. Robert Arnold did not set out to make a film about a disabled person, he wanted to explore the inner world of someone who could not communicate externally the way we can. And he discovered someone so full of life and emotion. The Key of G is a documentary that tracks the mundane things, Gannett eating, showering, dressing but it reveals the extraordinary. And it shows how Gannett moves from his mother's house into a home with a group of artists who make him part of their community.
Mario Ybarra Jr. may be called a Chicano artist but when the LA Times suggested that, he responded by saying "I make contemporary art that is filtered through a Mexican-American experience in Los Angeles. It's not my goal to learn Nahuatl but to speak Cantonese." What I believe is so telling about that statement is that Mario's mind is expansive, he explores a myriad of sides to a single idea and when speaking with him, you get that keen sense of a brain digging deeper and making connections we so often don't. Ybarra comes from LA, his family is from Guadalajara, and he has been practicing art for most of his life. He and his wife Carla founded the art collective Slanguage in LA and he has worked with numerous aspiring artists offering them opportunities they otherwise would never had. And he's only in his early 30s.Ybarra has been part of the Tijuana Biennial, he has shown work at the Tate in London and the ICA in London. He has just been accepted into the Whitney Biennial and he just completed a residency at the California College of the Arts, the product of which is a large mural that covers the walls of the entrance at the Wattis Institute, the gallery housed at the college. The mural was initially supposed to be up for 3 months, but Ybarra wanted it to remain there for 300 years! It's time has been extended to 3 years with a possibility for much longer. I interviewed Ybarra about one single thing, his mural at the college. This is the most unusual interview I have conducted because as you will notice in the next half hour, I ask only one question. Ybarra is a storyteller, an orator and although he spoke straight for nearly an hour, everything he said was absolutely fascinating to me. I hope it will be to you as well. This is part one of a two part conversation with artist Mario Ybarra Jr. speaking from the Wattis Institute at the California College of the Arts in San Francisco.
Right now, as I speak, hundreds of thousands of people are communicating on chat rooms. They are talking about their day, their views on politics, their innermost feelings, voicing their anger, looking for love. In fact, they are doing any number of things. The one consistent premise of chat rooms is not the topic at hand but the mere act of reaching out, of wanting to connect, of doing everything to get a sense that someone out there, in the ether, understands you and your experience. I have never personally experienced a chat room and neither had sound artist Ben Rubin when he decided to create Listening Post with a statistician named Mark Hansen. They wanted to reflect a social phenomena through sound and the result is extraordinary. I would love to describe it but it really needs to be experienced and thankfully it can be, right now, at the Yerba Buena Center for the Arts. Essentially, it's a visual and aural representation of chats going on in the world right now. It has six scenes, each reflecting a different, say, genre of chat and it's arresting and beautiful and sad and intriguing and many other things I am sure. These are just some of my own personal reactions. Listening Post has been purchased by the San Jose Museum of Art but is currently traveling all over the world.
When Hiroshi Sugimoto was a young man, he was slated to take over his father's business. The first born son in a Japanese family, Sugimoto could have been a successful business man but business did not speak to him, it was far from how he wanted to spend his life. In fact, what captivated him was the fundamental issues many of us grapple with, issues of life and death, of time and history, the ways in which we see the world and how that differs from the ways other people see the world. When Sugimoto was 12 years old, he started using a camera and realized that photographs are like a time machine, a way of documenting and recreating memory. One of his most famous series of works is titled Seascapes and part of the reason Sugimoto created it was to recapture his very first memory, the site of the horizon. Sugimoto is a trickster of sorts. He loves to make the viewer think they are seeing something real and he furthermore loves to play with the notion of what is real. As he says, photography used to be used as a means to gather evidence. But now, it can be so manipulated that it hardly tells the truth. Hiroshi Sugimoto has a large retrospective here in San Francisco at the de young Museum in Golden Gate Park. He chooses to hang his shows himself so the exhibition is not only striking in its content but glorious in its context. As you enter the gallery space, you are warned that you are entering a very dimply lit space, virtually black, and you may have trouble seeing the people around you. This allows for a deeper focus on the images and it further brings to life this pictures that seem to be asking questions about what life is. The first image we see looks much like a painting, as many of Sugimoto's works do. But, as he said, painting is a much more ancient medium and has much fewer limitations. Sugimoto loves the challenge of photography and the many contradictions it inspires. I spoke with Hiroshi Sugimoto when he came to San Francisco for his opening. We walked through the exhibition together.
EDWARD BURTYNSKY and JENNIFER BAICHWAL
In 2005, Canadian photographer Edward Burtynsky won the TED prize, a prestigious award given to three people a year. As part of the award, the recipient is given the the chance to speak at the TED conference and share three wishes he or she has for the world. In the case of Burtynsky, these issues revolved around sustainability and his intimate awareness of the fact that man's effect on earth is becoming increasingly destructive. In fact, Burtynsky's study on man's effect began when he first started university. It was a project his professor gave him, to document the evidence of man on earth, and, according to Burtynsky, he is still working on that initial project. Edward Burtynsky's photographs are beautiful, massive reflections on massive global influences. However, what is interesting about Burtynsky is that he is not photographing inherently beautiful landscapes. In fact, some of the images he captures are quite horrific when you think of the consequences of the subjects he deals with--factories, quarries, urban mines, oil. Now a film has been made about the work titled Manufactured Landscapes. The filmmaker, Jennifer Baichwal, loved Burtynsky's work and given the social implications it has, decided that a film would be a brilliant way to reveal the source of the images The film looks at the life behind the still images Burtynsky captures, it takes us into the moving reality of the the quarries and dams that Burtynsky travels around the world to photograph. In the film, we travel to China and Bangladesh. We see young men knee deep in oil, we see older men who have worked on the Three Gorges Dam for nearly ten years, we see cities leveled and piles of electronic waste, we see clouds turned black from the smoke of coal mines and we observe the way Baichwal meticulously turns still images into moving pictures. It's a brilliant film and one that forces you to look at all the things you find disposable and re-question their value and the place where they might ultimately end up.
Vivienne Westwood, the well known fashion designer who has changed the face of design over the last 40 years just arrived to San Francisco with an expected splash this past weekend. This week on Sight Unseen, part one of my interview with Dame Westwood. As you may know, Westwood's initial designs shocked the world with their punk aesthetic. She worked with Malcolm McClaren, manager of The Sex Pistols, opened a store on Kings Road called Let it Rock and that was when her design career began. Over the years she has both broken boundaries and remained committed to a history of design and fashion—Westwood has reinvented fashion objects, re-contextualizing them, changing their meaning and commenting on established British traditions (both of aesthetic and class). Along with that, she has been embraced by the British establishment even though she was so anti-establishment during the early part of her career. Now she has a show called Vivienne Westwood: 36 years in Fashion. The show started at the Victoria and Albert Museum in London and is traveling around the world. It's only stop in the US is here in San Francisco at the de Young Museum and right after the opening, the museum was filled with visitors. The show is quite extensive, spanning Westwood's entire career and the deYoung has offered an entire floor of the Museum for the show. In a way, when entering the exhibit, you feel like you're entering into the beautiful mind of the designer. Vivienne Westwood and I spoke about the reverence to the past (and the necessity of that reverence), the banality of contemporary art, the experience of collaboration and her advice to young designers, amongst other things.
The largest collection of Matisse's outside of the Matisse Museum in Paris, Picasso's first sculptures ever made in concrete, Miros, Giacomettis, David Smith, Lichtenstein, Antony Gormley, James Turrell, these are just a selection of works that Raymond Nasher and his wife Patsy have collected over the past 50 years. and now, these works can be viewed in a private museum called The Nasher Sculpture Center in Dallas, Texas. I met Raymond Nasher there this weekend. He had just returned from a visit to the White House where he had chats with the First Lady about the arts in America. Raymond Nasher opened the sculpture center three years ago in Dallas. He wanted it to be designed by Renzo Piano, he wanted to create an open air museum, a building where it would be difficult to distinguish between outside and in, and most importantly, he wanted to share his collection with people, not keep it for his family or for himself. In fact, he believes that art is meant to be shared, it's the foundation for a community to grow, to learn, to have profound experiences. That said, Raymond Nasher has amassed a collection very few ever have the opportunity to do and he started from scratch, having grown as a collector and a real estate developer, all the while living in a nurturing relationship with his wife Patsy, who had the eye for the work.
MONTAGE: A COLLECTION OF VOICES FROM THE PAST YEAR
This week, I have selected a montage of bits and pieces of interviews I have done over that last couple of years. I have spoken with loads of artists from varying backgrounds, architects from London, installation artists from Switzerland, curators from NY, performance artists from Maine, designers from Canada and a furniture designer from Dorset. The snippets you will hear are both about their art and about their perceptions, on their life, experience and the work they have created. The voices you will hear are those of Thomas Hirschhorn, Tobias Wong, William Pope.L, Ralph Rugoff, Wim Wenders, Philip Wood, Dennis Crompton and Matthew Higgs. Throughout, the music of Miles Davis.
The Rape of Europa is a documentary that has recently premiered here in the Bay Area at the SF International Film Festival. Today on Sight Unseen, the voices of two of the filmmakers RichArd Berge and Bonnie Cohen. The Rape of Europa tells the story of the systematic theft and deliberate destruction of tens of thousands of works of art by the Nazi party. As you may know, Hitler was an aspiring artist before he became the leader of the Nazi party. But when he applied to art school, he was rejected. Many people on the board of the university were Jewish and he was so infuriated by his rejection, and so obsessed with the notion of becoming a great artist and collector, that he and his party proceeded to quote un quote "collect", in other words forcefully steal from major museums around Europe. Some of the greatest treasures (Klimt, Raphael, Picasso, Rembrandt) were hidden in castles and salt mines, others were burned and destroyed. Many of these would have been entirely lost had a group of army men called the Monuments Men not been assigned to find them. There are still countless pieces still missing and other pieces that have been returned. And to add insult to injury, the Nazi party not only went into museums and art institutions but they went into people's homes, their private spaces, and took what they wanted. They stole furniture and artifacts, works that only have value to the owners themselves. The Rape of Europa looks at all of these aspects and poses the issue of the importance and exchangeability, or lack thereof, of life and art. In the film, art and life are one in the same, they can't live without the other and trying to wipe out art work and forcibly steal it from a country is much the same as wiping out that race. It takes their history, their memory, their pride. Richard Berge, Bonnie Cohen and I spoke about this, about parts of the film that never made it to the screen, about the volume of works stolen, the ways in which they were found, and the importance of contemporary jewish museums and how the creation of those museums is an attempt to reclaim a lost past.
JOE STRUMMER: THE FUTURE IN UNWRITTEN
The Clash is one of the most influential punk bands in history. In essence, they changed the face of music and they have influenced a wide range of creative luminaries such as Martin Scorsese and Steve Buscemi, Damien Hirst and Johnny Depp. We see all these faces and so much more in Julien Temple's most recent documentary Joe Strummer: The Future is Unwritten. Joe Strummer started the band whilst living in squats in London. A revolution was happening in music and some of the most groundbreaking sounds of the time were emerging, least of which was The Sex Pistols. They were around at the same the time The Clash was and then aspiring filmmaker Julien Temple had a choice. He knew something big was happening and wanted to document it in some way. So, at the time, he settled on The Sex Pistols and his first films were about them. He has since had a long and full career in film and his latest work turns to The Clash and particularly lead singer Joe Strummer. Joe Strummer: The Future is Unwritten is made beautifully in a pastiche of interviews, found footage, animation, concerts and personal interviews with Joe Strummer himself before his death at the age of 50. This film isn't just a chronicle of a band. As Julien Temple said, "You can call it a music film if you want but it's about celebrity [and] its effect [on] not just the fans but on somebody famous. Joe's life throws up so many ideas. I like him as a philosopher more than as a rock star." I spoke with Julien Temple when he was here in San Francisco.
Cinematic Orchestra is a British band that is difficult to define by genre. MOJO said that their most recent album "builds into a grandly melancholic journey through life, love, family and, finally death, via chamber jazz intimacy, midnight acoustic buzz and rich orchestral sweep" while other places would see Cinematics as downtempo or acid jazz, trip hop, or even drum and bass. But really none of these titles suit them. Maybe what is most true is that their elemental, their reach a certain quiet space within you and rest their for a while, and their work is very well crafted much like a sculpture, removing the excesses to allow for an inner beauty to emerge. It's not the least bit surprising that this would be true considering that Jason Swiscoe, the founder of Cinematic Orchestra had just finished art school when he started this proejcting and in school, he was a scultpor. Since the bands inception, they have played music for ceremonies honoring filmmakers as presitigious as Stanley Kubrick, they have been asked to create the soundtrack for groundbreaking films Dziga Vertov's Man with a Movie Camera. Needless to say, they fall within the liminal spaces of a myriad of artistic genres. I spoke with Jason Swinscoe when he was in San Francisco performing.
In 2004, a groundbreaking artist came onto the scene. Her work was uninhibited, vibrant and massive. She was being compared to Kandinsky and Pollock, she was discovered in a coffee shop in Binghampton, New York, and she was 4 years old. Her name is Marla Olmstead, you might have heard of her. In fact, if you watch television or follow the media, she would have been hard to miss. Her work, her name and her story was absolutely everywhere. The way she came about, outside of the confines of her home, was through a friend who had a cafe. He wanted to show her work there and sold a piece for $250. Then a gallery owner thought of having a show. The local paper wrote an article about it, the New York Times picked it up and her career soared. That is how filmmaker Amir Bar Lev discovered her. He was working in television and struggling to find a way out and in the New York Times, there she was. It seemed like the perfect story about modern and contemporary art. Her pieces were selling for 10s of thousands of dollars and after her opening, and the articles, there was an 85 person wait list for her work.And it was all the more engrossing because the media was so attached to Marla and it became a story about the media's role in creating the image and value of an artist. Amir Bar Lev called up the Olmstead family and was let in. But half way into filming marla, an expose came out on 6o minutes. It was suggested that Marla was not the sole creator of her work. In fact, it was her father that was helping her create these pieces and suddenly the story of a miraculous talent emerging from a shy and beautiful little girl who came from a modest and humble family start to crumble. Even Bar Lev had his doubts and we see all of this in his film "My Kid Could Paint That". the power of this film is that it doesn't offer answers but it extends a myriad of conversations, about art, the art world, media, family, and the role of a documentarian. The film was a sensation at Sundance and has been hailed as "the best documentary of this or any other year. I spoke with Amir Bar Lev when he was here presenting his documentary. Here, he tells the story of how he discovered Marla.
There's a Romani proverb that states, you cannot walk straight when the road bends. You may wonder who I am referring to when I say Romani. Well, it;s the true name of a group of people that have long been called Gypsies. Mention the term gypsy in Europe and other parts of the world, and there arises an immediate disdain. Gypsies are seen as thieving travelers with no home, no clear identity, and no sense of community. But like most prejudices, this is sorely misconstrued and we get a sense of the truth of the Romani people through a film titled When the Road Bends, Tales of a Gypsy Caravan. Shot by legendary filmmaker, Albert Maysles, When the Road Bends takes you on a journey through five Romani bands from four countries who unite for the Gypsy Caravan as they take their show around North America for a six-week tour, sold out tour. What is amazing is how these people, with different languages and different customs begin to understand eachother and unite through music. Jasmine Dellal is the filmmaker and I spoke with her when she came to San Francisco.
INTERVIEW WITH DIRECTORS-PART TWO
Wu-Tang Wu-Tang Wu-Tang Wu-Tang....These were the chants coming from the crowd awaiting the appearance of the Wu Tang Clan at Rock the Bells, a music festival put together by producer Chang Weisberg and his team the Guerilla Union. It was the first time Wu Tang would be together after having broken apart several years earlier. This was 2004 and at the time, Denis Hennelly and Casey Suchan wanted to make a film about the event. Now Rock the Bells is also a documentary, one that followed the happenings of Chang and his team as he brought together Wu Tang Clan for that first time. It's hard to describe the legend of the Wu Tang Clan and all that they represent. When they first came on the scene in the early 90's, they embodied everything that hip hop is, strength, community, comraderie, mystery, talent. They started as three members, grew to nine, now, some say, they are 300 Wu Tang affiliates, rappers or producers that associate themselves with Wu Tang. The core memebers of Wu Tang have now become an all-star New York-based lineup of Grammy winners, multiplatinum-selling solo artists, multiplatinum record producers, film stars, screenwriters, TV stars, product spokespersons, business owners and, most recently, major motion picture composers. Needless to say, Wu Tang has gone quite far in a short period of time. However, the members of Wu Tang, while celebrties, are like a family, with their trials, tribulations, challenges, triumphs and pains, possibly the biggest one of which was the death of the infamous Old Dirty Bastard, also known as ODB. Rock the Bells, by filmmakers Denis Hennelly and Casey Suchan, observes all the intimacy and intricacy of producing an event of such portence, of bringing togther a band that loves eachother and struggles with their individual personalities, and of taking the viewer on a ride of a concert that could very well fall apart and become destructive. Rock the Bells has been the official selection at nearly 20 film festivals world wide and has received praise ranging from "a fascinating glimpse of a dreamer and a music culture that has always depended on dreams" to "it's like Dave Chapelle's block party grew testes."
The art scene here in San Fracisco doesn't proclaim itself like the one in New York does, it doesn't shout out, some may even argue, there is no art scene. But hidden in the crevices are gems that shine brightly and one of those gems is Raimonds Staprans. San Francisco is not a place where you come to so to speak make it. You come here to live the life of those who have made it, or try your best to. It's such a beautiful city and it's hard to resist its charm. I imagine this is part of what artist Raimonds Staprans has felt, living here, away from his native Latvia. I learned of Raimonds Staprans from my studio mate and friend Gage. He had seen Staprans work at an opening at the Hackett Freedman gallery in downtown San Francisco. The brilliance of the paintings in color and the seeming loneliness, near emtiness in subject was initially an attractive contradiction for me in Staprans work. Like a haiku, there is a vastness in simplicity. and as staprans and I discussed in this interview, one can go so much further in thought when placed in stillness. I spoke with Raimonds Staprans at his home here in San Francisco. We sat before his window, a brilliant expansive view of most of the city. To my right was a painting that hung low on the wall. Staprans likes to hang paintings nearly at the floor. I was surrounded by his paintings and his presence. Born in 1927, Staprans has lived a full life, a painter in America, a playwritght in Latvia, a refugee of WWII. And yet his demeaner is in no way dramatic. He tells you how it is, as long as you ask.
NOT GIVEN: TALKING OF AND AROUND PHOTOGRAPHS OF ARAB WOMEN-PART ONE
NOT GIVEN: TALKING OF AND AROUND PHOTOGRAPHS OF ARAB WOMEN-PART TWO
The exhibition Not Given: Talking of and Around Photographs of Arab Women is here from Marseilles and was curated by Isabelle Massu and Dore Bowen. When I spoke with the curators, they both commented on how interesting the reactions to such an exhibition has been here in the US as compared to France. The thing is, in the past few years, the image of the arab world in America has changed dramatically and has been tainted by media. Recent histories and our own sense of difference has made arab identity both skewed and inaccessible. The exhibition Not Given offers a very different, and possibly a clearer view of the arab world and particularly of arab women. The collection of photographs we see is drawn from the Arab Image Foundation, an organization that has meticulously collected images taken by and of arab peoples. The foundation not only has collected these images but has categorized them in a very distinctive and conscious manner, giving tags to each image—woman, man, tie, street. The images that Isabelle and Dore have focused on are images that were given the tag disguise. What we are faced with is images that may seem shocking to the occidental viewer, arab women kissing on the lips, arab women getting married, arab women standing naked, arab women crossdressing. The images are not sordid, in fact there is a sense of playfullness, a definite sense of disguise. However they are provocative because they put into question not only our assumptions about arab culture but our identity of arab women in particular. In this interview, we speak of the images themselves, the interest that Dore and Isabelle had when they first came across these photographs and the ways in which those perceptions have changed.
TANYA ZIMBARDO-C0-CURATOR OF MEN IN GOLD by SYLVIE BLOCHER
Money—in most circles the term is a vulgar one. It's not appropriate to speak about money, it's impolite, offensive, divisive, it conjurs up unwanted emotions and even though it drives much of what we do, how we spend our time and where we put our energies, it's a topic that is rarely discussed. French video artist Sylvie Blocher has created a piece that opens the conversation about money. It is titled Men in Gold and it is one of her ULA projects. ULA stands for Universal Local Art and what Blocher does is look at universal issues that manifest locally and create art works about it. She does this all over the world and in the case of the Bay Area and San Francisco, that universal issue was that of money. Blocher calls this area the Golden Valley and it is in this valley that money has sprouted at exponential growth in the last 10 years. The valley is Silicon Valley and it is there that many people became millionaires nearly overnight. Blocher and the SF MoMA essentially did a call out for millionaires, finding out through their networks who would want to be part of this project. Basically what these millionaires had to be willing to do was to sit and answer a series of questions from Blocher, questions about their relationship to money, do they sexualize it, do they feel guilty about it, does money isolate them, does it excite them. Blocher cuts out all her questions and you are left with the answers and the look of these entrepreuners, venture capitalists, these young men who have great wealth, reflecting on themselves, on their life and on this seemingly taboo topic. Blocher looks at how wealth manifests itself in society and in the person themselves.
I erased an interview from my flash recorder, the precise interview I was going to use for this week's show and after searching everywhere and even coming to the point where I wondered if the file might be magically floating in my car, I have decided to just give up, settle up and offer what I can for the show and the piece and play music. So the piece that was going to air this week was an interview with the somewhat obscure but longstanding canadian band, Do Make Say Think. The band first played in an elementary school gymnasium. These words that make up their name were on the wall and so they were known as Do Make Say Think. Charles Spearin, the frontman who was one of the people I interviewed, is a father of two. Before Do Make Say Think became a band, it consisted of a bunch of friends hanging out in a living room , playing around with instruments and a 8 track. I asked him how is this different from sound art and while it is often difficult to distinguish the two, I think we ended up agreeing it came down to melody and intention. Now 10 years later, no longer a roomate but a father, Charles is still making music. It is his passion, it gives him meaning and it allows him to explore. The line between sound art and music is a fine one when it comes to this band. the song playing under me is a track from their first album and has the feel of a sound art piece. Ten years later, while their music has definitely matured, that sense of experimentation remains. Often the band will sit and argue over the most minute part of a piece, and try and understand conceptually why a sound should or should not be there. In other words, they may be the conceptual art of music. In the next half hour you will hear tracks from their very first album and their most recent album 10 years on. This first track is titled The Fare to Get There from their very first album. Following that is in mind from their most recent album, You, You're a History in Rust. After that, Her Story of Glory and finally, again from their first album, Onions.
OPEN STUDIOS: WHAT WAS YOUR FIRST EXPERIENCE OF ART (or the earliest you can remember)?
For a few weekends a year, San Francisco artists open their studios open and invite everyone in. I work in a studio space with a collection of painters and sculptors and I tried to think of a way I could contribute. So I laid out a mic, mini disc and headphones and asked people to record themselves answering this question: What is your first experience of art (or the first one you can remember)? This is a collection of the answers I received. I wasn't even there to record but people did a lovely job of holding the mic and sharing some of their early experiences.
Tara Wray was born in Manhattan, Kansas and raised by an undiagnosed yet evidently mentally unstable single mother. Tara never knew what mood her mother would be in, when she might want to pick up and move as she did every year, what might drive her to become angry or over protective, insulting or adoring. there was no consistency, a lot of fear and a sense that although tara was the daughter, she had to act as the mother. When Tara was 20 years old, she left home and went as far as she could. She studied in Finland, then New York and didn't speak to or see her mom for 6 years. During that time, she wrote about her, thought about her, cried about her, missed her, was angry at her and longed to see her. The only way she would do so however was on her own terms and it was then that she decided to make a film. Having never picked up a camera before, Tara decided to make a film about her mom, their reunion, their past and the desire to come back together. Tara's debut film titled Manhattan, Kansas has won a number of awards, has been traveling around the country and was part of The Independent Film Festival here in San Francisco.
Jens Hoffman was director of exhibitions at the Institute of Contemporary Arts in London and he recently moved to San Francisco to head the Wattis Institute, a gallery space housed in the California College of Arts. Wattis is one of the most innovative galleries in San Francisco with exhibitions that offer a real sense of curatorial practice at its best. As we discuss in this interview, Jens believes in the strength of a curator to direct a show that is at once surprising and offers a new way of seeing. What don't we see, what passes us by, how can a curator help us see more clearly, change the context of a space and of our presence in it? I spoke with Jens after he had been here for two weeks. He had already planned two years of programming at the Wattis. We spoke about his thoughts on place, time and the role of a curator and how it mirrors his experience of that as a theatre director.
When Mark Becker set out to make Romantico, he never imagined the film would turn out as it had. As he will reveal in this interview I had with him, he was living in the Mission district of San Francisco, an ethnically mixed and increasingly gentrified neighborhood where gringos like Mark eat burritos and visit cantinas. The relationship is generally amicable but the circumstances of each culture remain slightly unclear. Often in the Mission, patrons of bars and restaurants come across mariachis, or mexican musicians, belting out songs from the homeland, as if it's their passion. But the fact is that many of these performers have struggled across the border and found themselves here, only to struggle to make a few dollars a night, just enough to send back home and make a difference. The story of Romantico follows such a person, Carmelo, but reveals a much more in depth experience and past. Carmelo wanted to tell his story, of his childhood, leaving school at the age of 7 to beg for money for his family, struggling to raise his own kids, a bout of depression, the strength that he had to keep himself and his loved ones strong and the arduous and seemingly inevitable journey from Mexico to America.....and maybe even back again.
ART BASEL MIAMI'S SOUND ART LOUNGE
Art Basel Miami has become the largest art fair in the world. Artists, galleries, curoators, collectors and any of those interested in the arts join together for 5 days in balmy Miami to buy, share, celebrate, question and experience the growing world of art. Sound Art has now made a stronger appearance at Art Basel Miami and this year the Sound Art Lounge was a walk through the botanical gardens with the accompaniment of sounds—of birds, insects, opera, words, anything that curator David Weinstein could come up with. I spoke with David at Art Basel about the collection of sounds he has put together. To gear the sounds themselves, please click on the links below.
ART BASEL MIAMI'S SOUND ART LOUNGE—PART 1
ART BASEL MIAMI'S SOUND ART LOUNGE—PART 2
ART BASEL MIAMI'S SOUND ART LOUNGE—PART 3
Bjørn Melhus is an artist based in Berlin but shown all over the world. His main medium is sound and video and he uses these to subvert and re-contextualize American television—the evangelists, the home shopping networkers, the daytime talk shows. In so doing, we are forced to look at the reality we so readily accept, a reality that televison consistently presents. And observe the ways in which we see ourselves through this scripted world.
THE BLOOD OF YINGZHOU DISTRICT
"Extend your arm, bear the pain of a needle. Then flex your arm, 50 Yuan is earned." This was one of many jingles created by blood banks in China, which rural people committed to memory. But due to unsafe practices, thousands of impoverished Chinese contract HIV and other diseases through contaminated blood, often leaving behind orphaned children to raise each other or depend on compassionate families for support. Hong Kong-born filmmaker Ruby Yang and award-winning producer Thomas Lennon followed these orphans in the rural villages of Yingzhou District for one year and the film, The Blood of Yingzhou District, was born.
NO MUSIC DAY and BEYOND THE CALL
In the first half of the show, the voices of people on the street in San Francisco talking about what music means to them, some of their best experiences of music and even humming a few tunes (is humming music?). And later in the show, the more usual Sight Unseen fare, an interview with documentarian Adrian Belic (Genghis Blues) talking about his recent film, Beyond the Call, about three humanitarians whom Adrian travels the world with for 6 years observing what they do, how, why and the shock at what unusual humanitarians they are.
Jewish culture in America is quite powerful. I say culture because although Judaism is a religion, it carries with it a strong cultural component. As a result, the identity of a Jew and how that identity manifests in their personal life is quite fluid. This week, you will hear the voices of three artists exploring this issue in an exhibition at the San Francisco Jewish Museum. The show is called the Jewish Identity Project. It began in New York and has found its way here. I spoke with three artists from the show. Jaime Permuth, a Guatemalan Jew, one of only 1000 from Guatemala City. Jessica Shokrian, an American from Iranian/Jewish descent, and Chris Verene, a gentile as they say, a non jew who grew up in what was first town in A,erica to have Jewish settlers. Jaime documented the conversion of a middle aged woman into Judaism, Jessica created a collection of video pieces that were deeply personal and reflective of her identity and what created that identity and Chris followed the last few years of a close friend of his father's in his hometown, Max, a jew who escaped the holocaust and came to the US by himself. How is our identity formed, what does our religion say about who we are, why is it difficult to identify what Judaism is, and how murky has the term become as we observe from afar the Israeli/Palestinian conflict. Does that have anything to do with Judaism per say, and in the end, how does it affect identity? . To learn more about The Jewish Identity Project, please visit www.thejewishmuseum.org.
JONESTOWN: THE LIFE AND DEATH OF THE PEOPLE'S TEMPLE
On November 18th, 1978, 909 members of Jim Jones' congregation called The People's Temple consciously drank Kool Aid mixed with cyanide and died in Jonestown, Guyana. The event was viewed as the largest mass suicide in history and shattered the hopes that thousands had for The People's Temple. Many of those who died were children, and what remains absolutely shocking is how could one man convince hundreds of people to kill themselves in a community they had built in the jungles of South America. Jonestown: The Life and Death of People's Temple traces the rise and fall of the congregation and follows the life of its charismatic leader Jim Jones. Filmmaker Stanley Nelson, a new york native but recent transplant to the Bay Area made this brilliant documentary after he had heard the voices of several of the former member of the People's Temple on the radio. As we discussed, he was amazed at the positive reflections these members had. What had the People's Temple created before everything went so awfully wrong and how had it affected the survivors who didn't die on that fateful day in 1978. Stanley Nelson speaks with former members, shows footage from the community and congregation of the People's Temple, and draws us in to the development of Jim Jones as a person, a leader, and what some may call, a murderer. I spoke with Stanley Nelson about the history of the People's Temple and the effect the making of the film had on him as a person, amongst other things. To learn more about Jonestown, please visit www.firelightmedia.org.
In 1923, Edward Weston was in love. He had fallen in love with a fiery, beautiful Italian woman named Tina Modotti and decided to move to Mexico with her. She learned photography from him, they took photographs together and they had a love affair that lasted for three years. The thing is, their love was challenging and their visions almost opposites. Weston relished in beauty, in form and shape, in abstraction while Modotti saw art as a means to create change, her work was about the people, the peasants, those that struggled and her intention was to bring light to the human side of experience, not the aesthetic one. Eventually Weston and Modotti wen their separate ways but the exhibit at the San Francisco Museum of Modern Art, titled Mexico as Muse, brings their visions together side by side. The works are well executed, beautiful. They show us Mexico, free from civil unrest, open to a burgeoning art community, glorious in light and challenged by issues of class, of the divide between the indigenous and the newer settlers. What Mexico as Muse reminds us of is the connection we in America have to mexico, a connection all too often forgotten or denied. It also illustrates that inevitable question that rises in artists: what is the point of my work, what is its purpose and how does the purpose of beauty versus action manifest. I spoke with Sandra Phillips, senior curator of photography at the San Francisco Museum of Modern Art. To learn more about Mexico as Muse please visit www.sfmoma.org.
In 2005, Laura Poitras had had enough. She was sitting in her apartment in Tribeca New York and day after day, she was reading about the challenges, some may say atrocities, occurring in Iraq. What was happening there, how were American soldiers creating democracy there, what were the consequences of such a "pursuit" and what was the story behind the news coverage, behind the facts. Poitras, an American woman, decided to go to Iraq on her own, no protection, no understanding of language, very few contacts, and a huge sense of belief, a belief that exceeded any fear she had. She wanted to cover the elections in Iraq, elections being one of the foremost representations of democracy. She stayed there for eight months and filmed almost every angle one could surrounding the 2005 elections. Potras is a verité filmmaker, a style of documentary filmmaking in which the filmmaker is never seen or heard, the only, and maybe most potent way their presence comes across is through their lens and the choices they make of what to look at and what to reveal. Poitras did not want to be a character in her film, she wanted a protagonist that could represent the struggle, someone we as viewers could connect with and understand, and whilst at Abu Ghraib prison, she met Dr. Riyadh. Riyadh is an Iraqi doctor, a Sunni, a father of six and a political candidate. While an outspoken critic of the occupation in Iraq, Riyadh is just as outspoken about the necessity of democracy. We see Riyadh with his patients, we share dinners with his family, we sit in on political meetings, we eavesdrop on private discussions he shares with his wife. And we see soldiers, army officers, peace keepers, arms dealers, residents, visitors, UN officials and children. In fact, it seems hard to imagine a place where Laura Poitras didn't get in, her access was remarkable and her compassionate curiosity shines in this film titled My Country, My Country. We hear the voice of Laura Poitras speaking about why she made My Country, My Country, how, and the power of belief in the face of danger. To learn more about My Country, My Country, please visit www.zeitgeistfilms.com.
Several months ago, two photographers in Los Angeles were asked to document their neighbors Quincañera, a rite of passage in Mexican culture in which a girl is introduced to womanhood at the age of 15. The tradition is an ancient one, dating back to the Aztec period. There are several things that every quincenera has, one is lots of pink, pink clothes, pink cake, pink ribbopns, pink everything. There are waltzes, serenades, church processions and a huge party. And it takes months to prepare. Directors Wash Westmoreland and Richard Glatzer observed the preparations from their Echo Park home in Los Angeles and after doing the photo series for their neighbor, decided a film must be made. Within four months, Quniceañera was written, funded and shot. The film was born. My name is Tania Ketenjian and today on Sight Unseen I speak with the main actors of the film, Jesse Garcia and Emily Rios. Next week, the directors. Quniceañera was made in a kitchen sink drama style, a british genre of film making where all personal family stories are brought to the surface—secrets, lies, loves, fears. In this case, the film presents issues of gentrification, sexuality, modernity, religion, parent child relations, love, commitment and acceptance. And it reveals what happens when a culture moves to America— what traditions do their bring with them, how do those traditions change and how do older generations accept those changes. I spoke with Emily and Jesse about their own experiences and perceptions about the issues that come up in the film. Both coming from a background of Jehovah's Witnesses, they had never had many celebrations. Here, Emily speaks about what experience she brought to the film and her first memories of a quinceañera. In part two, I speak with the directors Richard Glatzer and Wash Westmoreland. To learn more about Quinceñera, please visit www.sonyclassics.com/quinceanera.
JUSTINO, NIGHT NIGHT AND ME-DI-ATE
The term sound art is a funny one, at least it seems a bit odd because any time I mention it, people seem to wriggle their eyes. What do you mean sound art, do you mean music, found sound, random recordings, field recordings, bird calls. I suppose the term is difficult to explain. I see it as a manipulation of recorded sound through a computer program. But when you speak to a sound artist, it seems like the art form came upon them when they first started listening to music and decided to play around with the a tape deck and cassette to change the way a pre-recorded piece sounds. I find this exciting because it seems to be what artists truly do well, expand the way something already is thereby changing the way in which we experience it. San Francisco is famous for its electronic music/sound art scene. When I first moved here three years ago, I went to a sound show where I was asked to put on blindfolds and experience the vibration of sound, be immersed in it. As a result, I lost sense of time and space, my normal faculties of sight and sense were completely affected and I experienced sound in a different way. Project Soundwave is the creation of appreciator Alan So. He started a company called mediate in which his ultimate goal has been to "challenge perspectives to inspire new and unique experiences within ourselves and the world around us. He wants audiences to look beyond the surface, and look deep into ideas and works critically, imaginatively and without limitation." Thus he has begun a sound series titled Soundwave bringing together sound artists, dancers, writers and filmmakers to provide a space where collaboration can occur and observe the ways that collaboration expands boundaries. On this weeks Sight Unseen, the voice of Alan So and two of his artists who took part in Soundwave, Justino and Night Night. Their pieces weave in and out of their answers. To learn more about med-ia-te, please visit www.med-ia-ate.net.
The sounds you are hearing are the sounds of the opening at Yerba Buena Center for the Arts last week. I walked through this show that had a massive sculpture that spelled out Oakland, films and videos, drawings, paintings and music. The show is called Sampling Oakland and it does just what it says, it offers a sampling of some of Oakland's up and coming galleries and art spaces. Oakland is just across the Bay form San Francisco but has long been known not so much for its art work but more for its higher level of crime and its lower income population. What many seem to forget is that in the 50s 60s and 70s , Oakland was a bastion for music, specifically jazz, what many believe to be America's only original art form. But as Oakland became more and more neglected, many of these clubs that attracted artists from all over the world were forced to close. It seems like art is now having a resurgence there. San Francisco is simply too expensive for artists and its space and time that artists need to produce their work. How this affects a community, what art brings and takes away from culture and how this manifests specifically in oakland are some of the topics we visit in this interview. I spoke with the curator of Sampling Oakland, Berin Golunu, along with the owner of one of the older art spaces in Oakland Kevin Slagle of Ego Park and Nicole Neditch of Mama Buzz Cafe. To learn more about Sampling Oakland, please visit www.ybca.org.
UNDERCOVER SURREALISM AT THE HAYWARD GALLERY IN LONDON: PART ONE
UNDERCOVER SURREALISM AT THE HAYWARD GALLERY IN LONDON: PART TWO
Georges Bataille, surrealist artist, coin collector, librarian and editor of the magazine Documents once said: "A museum is comparable to the lung of a great city, every sunday the throng flows into the museum like blood and leaves it fresh and purified. The museum is the colossal mirror in which man contemplates himself, in short in all his aspects, finds himself literally admirable and abandons himself to the ecstasy expressed in all art journals." This week Sight Unseen visits the Hayward Gallery where a show titled Undercover Surrealism is on display. The story is this: Quirky surrealist Georges Battaille (author of such notorious erotic works as The Story of the Eye and The Tears of Eros) was given some funding to create a magazine titled Documents, that reflected upon the growing Surrealist movement. His tack was to bring ideas and objects together in Documents that one wouldn't necessarily correlate and be critical in ways that most didn't expect . An image of a big toe along side a painting by Dali, a documentary about aquatic life along side a film showing a woman leaping out of a seashell. Bataille was radically pessimistic and highly subversive and thus the magazine itself was controversial only lasting two years, from 1929-1930. However the ideas and vision it espoused continue to resonate. The Hayward has brought Documents to life, transforming the gallery into the magazine itself, text on the walls, the objects in Documents presented just as they were on paper. I spoke with Simon Baker, co-curator of this exhibition and an expert in Surrealist art. The exhibit was 3 years in the making and Simon explains how it came about. To learn more about Undercover Surrealism, please visit www.hayward.org.uk.
In 1995, Larry Clark came out with his first film titled KIDS. it followed a group a teenagers in New York City and revealed a life of sex, drugs and general debauchery. One of the shocking aspects of the film was the way it introduced AIDS into youth culture. But in certain ways, that issue almost seemed secondary. It was the mayhem of these kids, how free they were and in that freedom, the way they relinquished morals and responsibilities. Larry Clark's lens was an intimate one. He brilliantly shot the footage in an almost innocent way, just watching and expressing what he saw. See, the film is fiction but you wouldn't be able to necessarily tell that it is. There is an honesty, a bluntness to these characters that surpasses the norms of traditional fiction cinema. This isn't at all surprising considering Larry Clark's background. He came to fame with his photography collection titled Tulsa, a chronicle of his own youth, of his community of friends who lived on the edge, shall we say, drinking, taking drugs, outsiders, not part of a society except for the one they created. Clark seems to be fascinated by the outsider and intrigued with revealing the truth behind a widely accepted veneer. His latest film, Wassup Rockers, re-visits the theme of youth on the edge. Three years ago Larry Clark was strolling down Venice Beach in California and came across a group of young, central american skaters from south central LA. They were dressed as punk rockers, tight jeans, metal belts, black t-shirts. When he realized where they were from, he found that there was a contradiction between the image of south central and the reality of these kids who were from there. The thing is, South Central is usually depicted as a largely black neighborhood and has often been represented in films (such as Boyz in the Hood and Menace to Society) as the hood, home to american blacks who dress in baggy jeans, baseball caps, carry guns and deal drugs. Wassup Rockers unravels this accepted truth, widening the lens on a community and society that is often myopically represented. Like KIDS, Wassup Rockers dispels our notions, in this case those of South Central showing a different world within that community. Also like KIDS, Clarks vision is curious, almost innocent, nearly fragile and evidently intimate. It's rare to grow close to this community and by the end of the film, you feel like a connection has been established, one between the viewer and the subjects. And although the film is fictional, you can't help but slip into the sense that you're watching a documentary, it all seems so real, and it is. I spoke with Larry Clark right before the film opened here in San Francisco. He shared his thoughts on teenagers, his experiences while making this film and how the kids in Wassup Rockers changed his life. To learn more about Larry Clark, please visit www.larryclarkofficialwebsite.com.
Patrik Fredrikson and Ian Stallard met each other while studying at St. Martin's College in London. They fell in love, began a relationship and pursued their individual passions. In the case of Ian his was ceramics and as for Patrik, industrial design. Their work was their life and their life their work and their personal identity was mirrored in each other. Like any strong relationship and one founded when you're young, Patrik and Ian grew together and their commitment to their art seemed to do the same. They realized that the process by which they were creating their individual pieces had become a collaborative one. They discussed ideas and ways of seeing and although working apart, they were actually creating together. In effect, as artists they were and are one. thus, a few years ago, they proclaimed the moniker fredrikson stallard dropping their individual identities as artists. They have developed a series of works that include a myriad of mediums, some quite fine like procelain others more industrial like acrylic. But beyond the work itself is a concept, as always, an idea that travels deeper than the tangible quality of an object. Their pieces inspire you to move beyond your presumptions of what works well together, they ask you to relinquish your comfort zone, some pieces almost beg you to peel away an exterior so as to discover a glorious interior. A little over a year ago, Patrik and Ian brought their life and work together in a space in east London, a rare gem in a city and country bubbling with people. They have a prisitne live work space that they use as an office, a gallery, a studio and a home. You drive through a narrow alleyway that looks decidedly unassuming. Behind a fence, the wooden doors open onto a small garden, sometimes visited by a mysterious feline, the metal shutters come up and your faced with a white entrance, a pile of massaged clay that works as a coffee table and their pieces greeting you as you organically move through the space. It's a sight to behold and one that is quite impressive for this young duo. But they are not shy to grandeur. Their work is presented in some of the most well respected spaces across the world and their message continues to forge through. Ispoke with Patrik and Ian at their studio when I came to london. They explained to me how they dicovered their space and gave me an insight into what their vision might be To learn more about them, please visit www.fredriksonstallard.com.
It seems like issues of gender roles and identity continue coming to the forefront, especially in the art world. As we look back on history, it was the male artists that always took the lead, women were not meant to be artists. They were the subject of great art works but as artists themselves, they faded in the background. After the women's movement both in America and beyond, women started claiming their rights and were more often finding themselves in roles often relegated to men. They even began acting more like men and the identity of masculinity became blurred. In the 90's, something called a crisis began. en started become emascualted. How are men supposed to be, what do women want and how can a man be "a man" without offending a woman. The questions emerge in the art world as well as male artist reflect upon their identity and explore it through their work. The San Francisco Museum of Modern Art has a series called New Work and this year, curator Joshua Shirkey has chosen three young male artists who directly look at notions of masculinity and the ways in which these manifest through image and medium. Most of these works are treated with a certain traditionalism, harking back to painting and illustration. Most often they raise a certain tension between subject and medium. In the case of Marcelino Goncalves, he tends to reflect upon the expected development of boy to man and observes how that development can be deceptive and result in a series of, well, unexpected results. His technique creates a certain dreamlike quality to the work moving the viewer into a state of reflection rather than observance. Zak Smith observes the relationship between male painter and female subject. While his work may look a bit more modern, his treatment is reminiscent of early 20th century painters who observed sexuality in a beautiful way distracting us from the subject matter by lulling us with color and vibrancy. Finally, Tim Gardner uses the often unpredictable nature of watercolors to present banal male iconographic images, the sportsman, the rough and tumble. But one wouldn't know that he was using watercolors. I myself made the mistake of thinking his works were photographs never ponce assuming that one could control such an fluid medium as watercolor. Watercolor is almost feminine but the subject matter of Gardner's pieces is entirely masculine and thus a tension evolves. One walks away from this collection of works wondering what the male role is not simply as an artist but also as a member of society. I spoke with curator Joshua Shirkey about these works at the museum. Here we are looking at a piece by Marcelino Goncalves titled Small Town Boy. To learn more about the New Work, please visit www.sfmoma.org.
America is supposed to be a melting pot, a haven for those that cannot sustain themselves in the place they live. The idea is, "come to the US, you can realize your dreams, create a home, be embraced by those from your own culture." However rather than us all being connected, so to speak, immigrants feel the constant burn of foreign-ess, a certain lack of acceptance, a disparity between their home and the place they have been led to believe could be the bearer of their hopes and their higher standard of living. I come from an immigrant family. Although my grandfather moved here from Lebanon over 10 years ago, he continues to say "I lost Lebanon and never gained America." Yet, amazingly he and all the other members of my family didn't have to struggle to arrive here. Their visas were swiftly granted, they became professionals, established themselves, created a life for themselves and became as comfortable as they could. But what happens to those that don't have it so easy, that don't speak the language, don't have the support of their family. This becomes most evident with the Mexican and Central American population in California. I mean, California used to Mexico and America managed to almost steal the land and make it their own. Every morning I walk out of my building and see Mexican day laborers waiting for a job, to be picked up by a stranger, taken to a strange place, to do work and send money home, to survive. With an American passport, you can do almost anything, work where you want, travel where you want (for the most part) but without that, you just struggle. Recently issues of immigration have come to the forefront. Immigrants can't take it anymore. They want amnesty, they want rights, they want to be heard. And hundreds of thousands have taken to the streets to effect change. I spoke with three artists who have created pieces for a show at Galeria de la Raza in San Francisco called Illegal Entry. They are Nora Raggio from Argentina, Consuelo Jimenez from Mexico and Robin Lasser, from California. Let's begin with a sound piece by Nora Raggio titled What Side Are You On? To learn more about the exhibit, please visit www.galeriadelaraza.org.
This year, the Black Panther Party is celebrating it's 40th anniversary and in tribute to that Yerba Buena Center for the Arts has put together an exhibition titled Black Panther Rank and File. Established in the hey day of the civil rights movement and the radicalism of the 60's, the Black Panthers called for greater autonomy of black Americans and correction of the injustices of racism. While the Black panthers were devoted to community growth and advancement of awareness and strength within American black culture, their image has been overshadowed by their confrontational approach towards authority. They believed that one of the core foundations and perpetrators of racism were agents of law enforcement and their outright and vociferous reaction to that led to an eventual breakdown. However their legacy shines on and although the party itself may have dissipated in the 70's, there still exists a following and a community of Panthers across the United States. While Rank and File documents the creation and rise of the Black Panthers through artifacts, it also presents current and older art works inspired by the Black Panther movement. As is usual for this art center, one is struck by all kinds of media: painting, sculpture, film, music. I spoke with curator Rene de Guzman and artist Esu Odundide exploring issues about art and artifact, inspirations from movements, collectives, and the importance of art as an agent for change. For more information about Black Panthers Rank and File, please visit www.ybca.org.
The Vietnam War has been the subject of countless films and documentaries. We can't seem to get enough of it and the closer we look the less sense it seems to make. What was America doing in the jungles of Vietnam, how was it combating Communism and establishing democracy and why did the war itself fall apart so dramatically and destructively. As a supposed super power, we couldn't even hold our own, in fact, we were beaten, and well, by a people simply fighting to stay alive, a culture who had been fighting for their independence for over 3000 years . The atrocities we committed in Vietnam are still being revealed and the attempt to hide what happened there continues. That might explain the continuing intrigue with the war itself and the success of documentaries that shed light on this mystery. Especially now when war is so palpable. Here we are, in the midst of war again, fighting for something we claim to be in the interest of the land we seem to be destroying. The evidence of the past becomes all the more valuable as we look to estimate what might happen in the future. Sir No Sir, David Zeiger's documentary about the GI War resistance here and in Vietnam reveals an overdo story about a movement that happened during the war that has been swiftly and effectively covered up. For more information about Sir! No Sir!, please visit www.sirnosir.com.
This week, the words of Dennis Crompton, founding member of the infamous and groundbreaking architectural group called Archigram. Archigram was formed in Britain in the early 1960's. A group of six young architects with a vision for the future and penchant for fantastic creations, creations that were developed with the interest of the individual in mind. The world was going through a revolution, technology was just rearing its progressive head, and archigram had the audacity and the guts to voice their opinion, illustrate through drawings and writings, and declare their vision to the rest of the world. The archigram group continued developing what they call experimental architecture until 1974. After that, they began to teach and influenced future generations to have the same visions they had, the same awareness of society and the responsibility that architecture and design has to promote the needs of its environment. I spoke with Dennis Crompton who is visiting San Francisco, spreading his message to students here. We spoke about Katrina, homelessness, cars changing into playgrounds and the future of design. For more information about Archigram, please visit www.archigram.net.
The voice of Wim Wenders, filmmaker, photographer, painter, writer, and director of such films as Wings of Desire, Buena Vista Social Club, Paris, Texas and most recently Don't Come Knocking. Wim Wenders was born in Germany just a few weeks before the end of World War II. Germany was a torn country at that time and Wenders was curious about the world beyond its borders. America, with its dramatic landscapes and the intrigue it inspires through film was particularly interesting to him and later in his life he came here to preserve the parts of this country that in his mind seemed to be disappearing. Having seen his own country destroyed, I wonder if Wenders uses his art to prevent the crumbling of other places, to preserve a beauty that is too often ignored. Wenders was a painter and discovered that film allowed him to paint somehow. By structuring a shot, he could create films that look like a series of paintings, filled with light, color, realism. His 1984 film Paris Texas is an excellent example of this and one of Wenders' most well known films to date. Like Don't Come Knocking, Wenders most recent work, Paris, Texas is about a lost man searching for himself within the landscape of his mind and that of the American West. The American West, with it's yellow toned hills, all encompassing blue sky, the limitless vision to an unattainable horizon. Wender's fascination with America is not just with its land but its culture as well, its cars and music, and we sense that in Don't Come Knocking. Written by and starring playwright Sam Shepard, most of the film takes place in Butte, Montana, a town that, in Wenders' words, looks like it's been built by Edward Hopper. Brilliantly shot by cinematographer Franz Lustig, Don't Come Knocking presents the viewer with a timeless America, an almost forgotten America. Wenders worked with San Shepard on the concept for the script and the film at times seems like a play, offering almost a confusion between what is real and what is fiction. It's in this confusion that Wenders likes to live, his life and his art inseperable, each feeding the other. For more information about Wim Wenders, please visit www.wim-wenders.com.
In the last year, we have been bombarded with images of disaster, whether it be natural ones such as Hurricane Katrina or more controllable ones such as the war in Iraq. Images are everywhere and a tale can be told through them, even if you are not there to experience what they reveal. This was obviously not so in the early 1900s. Photography was still relatively new and lay people with cameras was completely novel. Kodak came out with what was then the most popular of its kind, the Brownie, and more and more people were going out into the streets and shooting what they saw, capturing time, change and events on film. This is especially evident in the archived images of the 1906 earthquake in San Francisco. The advent of photography and the abundance of photographers made this event palpable and understandable even 100 years later. Mark Klett is a re-photographer meaning he goes to places that have been photographed long before and re-photographs those same spots, observing the ways in which they have changed and evolved. He has mostly done this in the wilderness but he recently took on a project that would bring him to the urban environment. He had never been to San Francisco but he wanted to demonstrate how much an urban environment can develop, especially after disaster, and how rapidly and dramatically that change takes place. Mark went to the Legion of Honor, a historic museum in San Francisco that has a huge archive of images from the time, and with curator Karin Breuer, developed an exhibition in which images he took in the last year stood side by side with images from the quake, same spots, different centuries. Photography is all about time, a moment captured, frozen. This project reminds us of how that idealogy behind photography is somewhat deceptive, that which is captured is ever evolving and these images of the development of San Francisco from the quake till now demonstrate that poignantly. It also shows how differently amatuers and professionals frame their shots. The main professional photographer we speak of in the interview is the infamous Arnold Genthe. Here, Karin speaks about the difference between professional images and amateur ones and takes us on a journey through selected works of Mark Klett and other photographers in After the Ruins. For more information about After the Ruins, please visit www.thinker.org.
On a recent Friday evening in San Francisco, the Citizen loft hidden by the austere facade of the exterior of a building was filled with people, dancing, drinking, and looking at art work. It was an unusual opening, generally openings are a bit stuffy, people have entered into a space that dictates how they should act and perceive, they take on a role they are accustomed to set in place by all the previous times they have entered a gallery. There was something different about this though, it was a party, a gathering, and an event where curiosity could be satiated.....The work was challenging, porcelain vases with horsehair, acrylic rugs, a wall where a bulletproof duvet hung, gold dipped coffee stirrers from McDonald's, gold saw horse brackets, large cleaning brushes in the shape of crosses.....And all of it was quite beautiful. Therein lies a contradiction....somewhere along the way, conceptual art lost its beauty and it seems like Citizen is seeking that beauty out, with irreverence and wit and playfullness and care. It's difficult to pinpoint exactly what Citizen does. It curates, manufactures, distributes, and creates conceptual design, design that breaks paradigms, design that is somewhat indefinable. One of their artists is Tobias Wong and he came to San Francisco for the Friday night affair....He is the creator of some of the works that were presented including the bullet proof rose and duvet.....He also has some clear and distinct ideas of what is beautiful to him, what the term he coined "paraconceptual" means, and how his work and idealogy fits in with Philip's, the owner of Citizen. Here Philip and Tobi are discussing a ring that Tobi is wearing, a key ring that Tobias wears everyday. For more information about Citizen-Citizen, please visit www.citizen-citizen.com. For more information about Tobias Wong, please visit www.brokenoff.com.
If you're Armenian, you may be one of those Armenians that watches the credits of films to see if an Armenian was involved in the production and when you catch the tell tale -ian, you get excited, or maybe you're one of those Armenians that asks other dark haired and dark eyed people if they have Armenian heritage. You may just eat the food, speak the language, maybe you go to Armenian church, or events, or maybe none of these, maybe your Armenianess is a silent one, a private experience, or maybe not meaningful at all. I am Armenian. Although I was born in United States, I grew up in an Armenian home. We spoke the language, ate the food, had carpets all over our house, my parents are immigrants, my hair is dark and my skin is olive, when I go to an Armenian event, I look around me and discover that I look like everyone else, and when I meet an Armenian, at the supermarket, an art opening, in the airport, or at a party, I get very excited. It makes me feel strange that it should mean so much, it seems nationalistic and ethnocentric, but its seems so real. What also seems real is that I have never felt part of the Armenian community and I continue to explore what it means to be Armenian. When the Armenian film festival came to San Francisco two years ago, I couldn't wait to go. For one, I wouldn't have to explore the credits for an Armenian name, they would all be Armenian.....but more importantly, I had a sense that film might be an effective way for Armenians to explore and express their identity. What was that identity and how might it be expressed through the malleable medium of film. I was amazed to discover that there were films in the festival from all over the world, Lebanon, Canada, Russia, France, the UK, Armenia and the US. Armenians are a diaspora after all, that shouldn't be very surprising.....The more surprising thing however was how risky the films were, they weren't straight narratives by any means, some weren't even narrated. There were animated films, silent films, films as artistic image, and they were all taking chances, breaking boundaries. The thing is Armenians don't seem to be boundary crossers and yet here, through film, some have found a way to express who they are and do it in a way that is true to their aesthetic sensibility. That's what film festivals can offer, a chance for filmmakers to express themselves and find a home for their voice, regardless of how is heard. I spoke with Anahid Kassabian, Thea Farhadian, and Hrayr Eulmessekian, the three curators of the Armenian Film Festival. Here, Thea shares what she found surprising about the films in the festival. For more information about the Armenian Film Festival, please visit www.aremenianfilmfestival.org.
Who are we, what constitutes our personality and tendencies, to what extent do we act on instinct and how much do we rely on memory. Imagine for a moment waking up not knowing who you are, you're past experiences completely wiped away, knowledge of your family and friends non existent, your wealth of experience gone. And yet, your ability to learn, to walk, to speak, to dance, to live is all there. You have an awareness of yourself but that self is in a nascent state, just emerging, almost as if out of the womb. This is the story of Doug Bruce. At the age of 35, he experienced retrograde amnesia. He had grown up in England, moved to New York and worked a stock broker, became very successful, retired at the age of 30, lived in a beautiful loft, studied photography, was sharp and cynical and handsome, and unattached. One evening, he mounted the F Train and the next morning woke up to an environment he didn't know, buildings he couldn't recognize, smell completely unfamiliar, and a sense of himself gone. Rupert Murray is a british filmmaker and close friend of Doug. When he heard of what happened to him, he asked Doug if he could film the process of redicovery Doug was going through. The film Unknown White Male was born. We see Doug meet his family for the first time, eat berries and hear the rolling stones, touch snow, and experience the power of the sea, hear music and see films, learn about history, art, geography, see friends, and search through papers and pictures, short films and old belongings for clues to the person he was before. We hear the words of psychiatrists talk about what memory is, and we reflect on ourselves, our own experience, and explore to what extent that makes us who we are. I spoke with Rupert Murray here in San Francisco. Here he describes some of his favorite bits of the film. For more information about Unknown White Male, please visit www.unknownwhitemalemovie.com.
The Saddam Art Center in Bagdad seems to be a contradiction in terms. Room after room contains billboard size portraits of Saddam, the "art" of these images all pervasive throughout the center. In the back room however you come to an image of a nude woman clinging to a barren tree. It almost seems like a mirage, its unique presence becoming dreamlike. According to Heather Raffo, creator of the play 9 Parts of Desire, when she came upon this image there was a light before it, the woman's head was bowed. She discovered that the title of the piece was savagery and it inspired Raffo to take an 11 year journey interviewing Iraqi woman from all over the world. It began with the creator of the nude, an exuberant, passionate, sensuous painter, one of the first women we meet in the play. She speaks of affairs she has had, she speaks of Saddam randomly picking women and claiming that they were prostitutes and beheading them. In one moment she says, "If I am not afraid, then there is no feeling." This line resonates because it is the bedrock of the characters of the 9 women we meet in the play. It's the strength of their brutal honesty that shines through, their revelations of experience, of desire, of dreams left unfulfilled. And it's that magical intimacy of theatre, one that is felt when faced with one actor, running about on stage, moving through characters and voices, and reaching out to us to listen, to feel, to relate, to cheer, to sob, that makes this work so strong. Heather Raffo has performed this play herself since its inception, 2 hours, 9 characters. For the performance here in Berkeley she has passed the torch to Mozhan Marno. Joanna Settle continues to direct. I spoke with Mozhan and Joanna after opening night. Here Joanna shares her ideas of how portraying 9 women in essence portrays the women that reside in each of us, regardless of background or experience. For more information about Nine Parts of Desire, please visit www.met.com/9parts.
Race in America is like the elephant in the room. It's just not talked about and yet it is so prevalent. We say that we're a melting pot, we say that we welcome all cultures, we say that equality is one of our most important values and yet neighborhoods stay segregated, and rights to education, healthcare, and living standards are simply unequal. It's difficult to pinpoint exactly why this is so in America. There's loads of speculation, is it the consequences of enslavement, is it about class above all else, is it simply due to silence, to a refusal to look at the issue of race, dismantle it and engender change. That's where art comes in. Somehow art or performance, opens up a dialogue that normal conversation cannot and it allows challenging ideas or traumas to be communicated in a way that is accessible. If it's done well. Brian Copeland's Not a Genuine Black Man has birthed a conversation that is long overdo, and much to his surprise. When Brian Copeland sat down to write his one man play, he never imagined it would grow into such a hit. He isn't a stranger to fame. For many years, he had a long running television program, he still has a radio talk show, and he's done loads of stand-up comedy acts opening for famous American performers. He always wanted to do a one act play but he wasn't sure what it would be about. He looked inside to find what his story is and it all came to him, his childhood, the choice his family made to move into an all white neighborhood in northern california, and the consequences that came with that choice. To explain all the different issues that Not a Genuine Black Man presents would be a challenge, Brian Copeland manages to fit so much in just a couple of hours, 32 different characters, loads of laughter and tragedy, and not one ounce of bitterness. That's one thing that's amazing about the man, he's not bitter, he's just telling a story, a true story, and he's giving us the opportunity to have a look into what it might be like to be a young black boy amongst white neighbors in post civil rights movement in america. The amazing thing is that so many people can relate because what the story is ultimately about is being an outsider and what happens when your outsiderness has to do with the color of your skin. The premise of the story is that Brian Copeland's mother wanted to move her family to a middle class neighborhood in Northern California. California is the north west and as legend had it, racism was not prevelant here. But when the Copeland's moved to San Leandro, they didn't find what they expected. Here Brian shares what San Leandro was like in the early 70's when he first moved there at the age of eight. For more information about Brian Copeland, please visit www.briancopeland.com.
British artist Richard Long has taken over a gallery at the SF MoMA for the next few months. It is true that Richard Long's exhibition titled The Path is the Place is the Line has been curated by the photo department but it would be an injustice to limit his work to the medium of photography. In fact, it would be innacurate. Richard Long creates sculptures on land, he's an interventionist, and he works in the tradition of other artists such as Donald Judd, Robert Smithson, and James Turrell. These are artists who have broken out of the confined and limited space of a gallery and have taken the earth as their canvas, as their medium. However, Long stands out amongst these artists because his work incorporates a sense of journey.He travels by foot across vast amounts of land and creates work using the land along the way, circles of rocks, trails that weren't there before, water formations. As one british journalist aptly pointed out, to truly understand the work of Richard Long, one has to walk, and walk, and walk, one has to attempt to experience what he experiences and move through his process. That's the magical, intangible quality of his work, it's not so much about the result, it's the process he goes through. The solitary trek where the land becomes the art and his presence in it as a creator. The exhibit here in San Francisco tracks his 3 week long journey along the Pacific Crest Trail, an infamous trail along the central part of California, a path that has been trekked and photographed and documented. The gallery at the SF MoMA includes a triangle of rocks, much like what Long might create on his travels, a wall painting made of mud, and of course the images of his works along his journey. Sandra Phillips speaks about how democratic Richard Long is, how he is different from the land artists of America, and his connection to the romantics of the 19th century. I spoke with Sandra Phillips, senior curator of photography at the Museum. For more information about The Path is the Place is the Line, please visit www.sfmoma.org.
You cannot simultaneously prevent and prepare for war. Albert Einstein once said this and yet his theories were used in the creation of the hydrogen bomb. America is in a somewhat similar contradiction. We claim to want peace and justice and yet we continue to build the largest industrial military complex humankind has ever seen. And if you ask an American Why We Fight, their first answer is almost always the same--Freedom. When filmmaker Eugene Jarecki was making The Trials of Henry Kisisnger, he fell upon former president Eisenhower's farewell address to the American Public. In it, Eisenhower who was once a general claimed that, "In the councils of government, we must guard against the acquisition of unwarranted influence, whether sought or unsought, by the military-industrial complex. The potential for the disastrous rise of misplaced power exists and will persist." Eisenhower could foresee the direction of America and he didn't like it. Jarecki was amazed by the candor and intuitive nature of this address. American presidents rarely lambast the direction of the government and in that vain the American media seems to keep the public in the dark. That's where Jarecki's documentaries come in. He believes that documentaries are meant to shed light and explore, to inspire discussion that may lead to change. Why We Fight does just that taking a look at specifically why we are in Iraq. Jarecki speaks with a New York City police officer who lost his son on 9.11, he speaks with a Vietnamese woman who aids in the creation of American bombs, he speaks with members of the CIA, and with political analysts like Gore Vidal, he even speaks with the grandchildren of Eisenhower himself. Jarecki says that he couldn't have made his film had he not received funding from countries outside of America and specifically the support of Nick Fraser, of Storyville fame. I spoke with Jarecki here in San Francisco where he was promoting his film. We discussed his childhood and how that influenced his filmmaking. For more information about Why We Fight, please visit www.sonyclassics.com.
MUSEUM OF THE AFRICAN DIASPORA
The Museum of the African Diaspora is situated in the heart of what is becoming the museum district of San Francisco. It takes up the bottom three floors of a famous hotel but you would never know it. It's facade commands a presence all it's own, not seeming part of anything else. And that is congruent with its ideals. It's one of a kind, the first museum dedicated to the African Diaspora. In fact, the museum espouses that we are all part of the African Daispora. The first humans were discovered in Africa and we are their descendants. When you first enter MoAD, after being welcomed by the museum staff and tempted by the colorful textiles in the museum store, you are faced with a map of the world made up of dots that slowly appear, initially in Africa and soon extending further out representing the travels of life from Africa to the rest of the world. The museum itself is divided into four main themes: origins, movement, adaptation, and transformation, themes that are consistent in every diaspora. But what is a diaspora, is it simply a dispersement of a people from their land? That may be so by definition, by the term diaspora is much more laden than that. It often implies expulsion, a forced leaving, an unwanted departure. However, The Museum of the African Diaspora explains how we are all part of a diaspora regardless of color, of race, of origin. The diaspora began hundreds of thousands of years ago, most likely in the country of Chad in Africa. MoAD believes that we can further understand this through art and it incorporates a host of different mediums in its exhibitions: film, sound, painting, sculpture, photography. These all play a role and all are used to create a crossroads between people from all over the world. Lizetta LaFalle Collins is the director of curatorial affairs at the museum. Here she explains how the museum came about. For more information about The Museum of the African Diaspora, please visit www.moadsf.org.
In the late 50's, conceptual artist Yves Klein had a utopian vision of creating an architecture of air, walls, ceilings, furniture, would be made of air, and while these things would exist they wouldn't necessarily be visible. In the early 90's, Italian sculptor and performer Maurizio Cattelan claimed to the Italian police that an invisible sculpture had been stolen from his car. He was involved in a group show the following day and didn't have a piece to place in the exhibition. The police did in fact write up a report, not second guessing his claim of theft and the report was entered into the show. These are a couple examples of what you will encounter when you go to see the latest exhibition at the Wattis Institute titled A Brief History of Invisible Art. As curator Ralph Rugoff states, "invisible art challenges our assumptions by emphasizing art's communicative possibilities over its visual qualities" and maybe most importantly it asks for our involvement, it asks us to take a closer look at the ideas behind the work and understand the work by experiencing it, not just looking at it. If you walk into the exhibit, you may think there's very little there but its bursting with ideas and energy, and it's that intangible fullness that Ralph Rugoff was after. For more information about Invisible Art, please visit www.wattis.org.
Songwriter and performer Dominic Tandy is visiting us from London, England where he has been creating work and performing for several years, most recently as a solo act. Following in the tradition of performers like David Gray and Jeff Buckley, Dominic allows himself to follow the range of his voice, to reach highs in his tonality and be comfortable with the sound that emerges. He comes from a musical background, hearing his Mother singing opera in the livingroom of their home in Devon, on the coast of England. Today we will hear several of Dominic's most recent tracks, he came to the Bay Area for a week and we have the opportunity to catch a bit of his music. Here he introduces his first track...
Normally Sight Unseen brings you the words and thoughts of artists of all different mediums talking about what they do, why they do it, and how it affects the world around them. This week though we're doing a tribute show to musician and composer Nick Drake. Nick Drake died on this very day November 25th, 1974. During his short lifetime, he wouldn't reach the fame that he has now. In fact, Nick was so shy and resistant to being seen that he would only want to accompany other acts when touring. Even when he was in the studio, he would play facing a wall to avoid other people's gazes. But his music is brilliant, his guitar technique unique, his voice raw and sensitive. Today we will hear pieces from Nick Drake's three different albums and the story of his musical career. For more information about Nick Drake, please visit www.nickdrake.com.
Tamta Mikhalova has been an artist since she was born. Raised in Tbilisi Georgia, Tamta thrived in a community of arts that pushed her to explore the boundaries of her creativity. Two years ago, Tamta moved to the Bay Area from Georgia, leaving behind friends and family, a lifestyle and sense of community that was difficult to abandon. America, with all its opportunity, can be a lonely place and as an immigrant, one feels all the more excluded. However, Tamta regained her strength and has now opened a gallery in San Francisco. The work itself is a fusion of ancient and modern archetypes, ethnographic treasures and cultural icons. She loves Georgia, deeply and truly, and it shows in all different aspects of her work whether creating a landscape or delving into surreal images. I spoke with Tamta before she had moved into her new gallery space. Her home was covered in her work, paintings and fashion that she had created in the past few years. As we spoke of her work, her aunt played the piano. Tamta's gallery is located at 266 Sutter Street on the third floor in San Francisco. For more information about Tamta Mikhailova, please visit www.tamta.com.
The Middle East has been ostracized, glorified, misrepresented, abused, revered, unknown , mysterious, ancient and evolving. In other words, what it is, where it is, and what it represents is a somewhat fluid thing. It is everything and nothing, it is all loving and hateful, it is the foundation of humanity and the destruction of it, it may be none of these or it may be all of them and it deserves exploration. In the late 1990's, an Iranian Armenian playwright decided to open a theatre company here is San Francisco that would create work that focused on the Middle East, "placing the Middle East center stage". Nine years later, Golden Thread Productions is thriving and growing. Director and founder Torange Yeghiazarian attributes the success to her commitment to change the world, the passion she has for her work, and for theatre. For six years, Golden Thread has been producing a series of short plays during a festival titled Re-Orient. Althought he plays focus on the Middle East, those involved are from a myriad of backgrounds. This week I spoke with Golden Thread director Torange Yeghiazarian, playwrights Enrique Urueta and George Crow and directors Mary Guzman and Isis Saratial Misdary. The most remarkable is that each of these people come from different backgrounds, be it New Zealand, Egypt, or Latin America and yet they are all involved in a Middle eastern theatre festival. In fact, the exploration of the Middle East is not so much about place but about boundaries and identity. Here Mary talks about how directing Enrique Uruets'a Learn to be Latina sheds light upon her own sense of identity. For more information about Golden Thread Productions, please visit www.goldenthread.org.
"What's Not to Love" is the most recent exhibit at Galeria de la Raza, a gallery located in the heart of the Mission district, that has been going strong for just over 35 years. In fact What's Not to Love is an exhibit that has been created in celebration of this anniversary. Amongst several themes, it looks at how Latino artists use satire and humor to communicate about some of the most challenging aspects of Latino culture. In this way, Latino artists are able to be rebellious, to reinvent themselves and their message, and to allow viewers to discover a truth and a circumstance of Latino culture through the comfortable form of humor. In fact, it isn't simply latinos who use humor to address issues of struggle and pain, difficulty and challenge. It is a global cultural phenomena to use humor as a means to create understanding. It just works, it warms people and enlivens people and it catches them off guard. Suddenly you realize what you're laughing at and you become all the more aware of the seriousness of the issue. Laughter about suffering creates a dramatic dichotomy while at the same time offering a sense of irreverence, a lack of seriousness reminding us that life can be a great challenge and that that's okay, it's life. Rene Yanez started Galeria de la Raza 35 years ago with the hopes of promoting the work of Latino artists and creating both an actual and mental space where they could collaborate, share ideas, become active in the community, and show work. About 6 years ago, Carolina Ponce de Leon came on the scene hailing from Colombia and then from NY respectively. She was attracted to Galeria because it was place that took risks, that was willing to stretch its boundaries and grow. She learned of Galeria through artist Praba Pilar, a multi media artist who addresses issues of technology and the effects technology has on the environment. Praba is an activist and she uses her work as an artist to activate people's awareness. Her piece, Computers are a Girl's Best Friend, satyrizes the 1953 musical Gentleman Prefer Blonds while addressing issues of the computer generation, circumstances us computer users tend to ignore. I spoke with Rene, Praba and Carolina in a loft in San Francisco. Here Carolina explains how she curated "What's Not to Love". For more information about Galeria de la Raza, please visit www.galeriadelaraza.org.
GAMELAN MUSIC AND SHADOW THEATRE
Larry Reed was a student at Yale studying French when he became interested in film. He came out west, studied film at the Art Institute in San Francisco and set out to Thailand to document the stories of another culture, the way they live, communicate, experience life and community. By chance, while there, he discovered the world of Gamelan music and although had never played any instruments in his life, set out to learn this ancient art form. While interested in film, Larry was also fascinated by theatre and he was led to the magic, ephemeral shadow theatre. He came back to California and and set out to bring this form of theatre to the Bay Area. Amazingly, there was a community here from Java, Bali, the Philipines who also wanted to play, to perform. He formed Shadowlight Productions in 1972 with the hopes of integrating the storytelling traditions of America and South East Asia. This desire has culminated in countless performances where not only cultures have crossed but mediums as well. Today however, Larry is speaking about his most recent project, a festival in fact called A Gathering of Gamelans. In addition to the festival, there will be a production of Shadowlight's a Balinese Tempest, a new telling of Shakespeare's well known drama inspired by the mythology and arts of Bali. The festival began yesterday and will continue through the 23rd of this month. All the performances are at the Cowell Theatre in San Francisco. I spoke with Larry at his studios in San Francisco. To learn more about Shadowlight Productions, please visit www.shadowlight.org.
It is becoming all too rare that people from disparate religious backgrounds can come together and celebrate together. This week for instance, two major religions were celbrating their most important holidays. They were both in a state of appreciation, of abandonement to the divine, and yet it is these very religions that cause wars, that bring about strife and despair, all the while ignoring the magical connection between them, and between all people in fact. We are all connected, it's been said many times before, and if we truly want to progress, we have to embrace this connection. Ironically enough, art is one of the main avenues to understanding this, and often enough, it's the art of sound, of music. Stephen Ollson has made several films, his most recent one is titled "Sound of the Soul" and it is playing at the Mill Valley Film Festival this weekend. Sound of the Soul is an homage to the Fez Festival of World Sacred Music in Morocco. Stephen was invited to attend and decided to take a small crew with him to create a film about what he heard and experienced there.
MATTHEW HIGGS at WATTIS (part two)
The term conceptual art is a funny one because as curator Matthew Higgs points out, all art is conceptual because all art begins with thought. In fact, with the right intention, anything could be considered art and some may argue that the lines of art and object have become all too blurred. Take for instance the introduction of ready mades by Marcel Duchamp. The concept there was that something as mundane, and some may even say, as vulgar, as a urinal could be considered art. Someone did in fact create it, did design it, and if you observe its curves, it's sheen, its shape, well, it is quite beautiful. Regardless of its beauty, or lack thereof, what that piece infers is that the most mundane and sometimes unnoticed objects can be considered art, once placed in the right context, and therefore everything has the potential to be art. General Ideas: Rethinking Conceptual Art is the most recent exhibition at the Wattis Institute in San Francisco. It was curated by Matthew Higgs hailing from NY's White Columns gallery. Higgs suggests that the conceptual art movement of the 60s was fueled by the world's inevitable fragmentation caused by the WWII and later by the Vietnam War. This fragmentation inspired a questioning: who are we, how do we relate to eachother, and ultimately what is our place in the world around us. Some of the answers to these questions are not found in the lofty, dream like beauty that art once aspired to, no. One must look at the everyday, at what seems most mundane, and in effect most universal. This is what conceptual art attempts to do, to look at life from a different angle, thereby offering us a chance to understand it better. For General Ideas: Rethinking Conceptual Art, Matthew Higgs has selected a group of contemporary artists who continue to explore issues of self and time and place, much like the early conceptualists. In fact, Higgs argues that all art that has come after the conceptual art movement is simply post-conceptual, in other words, an outgrowth of that movement. General Ideas includes works from 1987-2005, artists such as Felix Gonzales Torres, Rob Pruitt, and Frances Alys. I walked through this exhibition with Higgs as he explained each piece to me. In this week edition, we visit the second floor of the show but first I wondered how conceptual art could be understood by older generations, shall we say, the pre-conceptualists. To learn more about General Ideas, please visit. www.wattis.org. To learn more about Matthew Higgs and his gallery White Columns in New York, please visit www.whitecolumns.org
In the early 20's, Marcel Duchamp introduced the idea of ready mades, objects that were not expressly made as works of art but that could be considered such. The most famous of these was the Urinal, titled R. Mutt. Although the conceptual art movement wasn't born until 40 years later, this act paved the way for the Conceptualist to create the movement they had. Matthew Higgs curator of General Ideas: Rethinking Conceptual Art currently at the Wattis Institute and director of the White Columns gallery in NY says that the Conceptual Art movement of the 60s and 70s was a response to the political climate of the world at that time, an attempt to break barriers that were rapidly forming and a desire to observe the issues we as humans grapple with everyday, who are we, what is the meaning of time and what is our place within this fragmented world. He also relates the growth of conceptual art to the rise of technology in art. Artists started using video cameras to document themselves and their environment, but rather than capturing the extraordinary, they filmed the utterly ordinary and in the simple observance of it, made it art. Genera Ideas in fact refers to the mundane, the everyday, and General Ideas looks to examine that everyday and see the connections between the artists and ourselves. Ultimately the show itself, and conceptual art as a whole, attempts to remind us that art is not a seperate part of our life, but that is in fact life. Higgs reminded me that Impressionism was a movement that looked at the everyday, and when it emerged was quite scandalous. Now it seems like a traditional movement. John Baldessari said that art is pointing things out, and as viewers we have an opportunity to consider the world around us....and when we take that moment to consider there's a magic, a poetry to life that emerges. Higgs wanted to capture this small poetry of the everyday through the work of the artists he has selected. The works in General Ideas span a generation, from 1987-2005. I walked through this exhibition with Higgs as he explained each piece to me. To learn more about General Ideas, please visit. www.wattis.org. To learn more about Matthew Higgs and his gallery White Columns in New York, please visit www.whitecolumns.org
Ari Marcopolous was born in Amsterdam and lived in NY for almost 20 years. While there, he made films, took loads of pictures, befriended the beastie boys, made a book about them called Pass the Mic, took pictures of skateboarders, snowboarders, hip hop culture, wrote books, and became a successful photographer. If one looks at his more recent work, it might seem like he's taken a departure yet behind every image is an idea a reflection, and what is consistent in Ari's work is the reflection on family. Yerba Buena says that "a constant in Marcopolous' photography is a rich, clear light, perhaps inspired by the artists exposure to the luminescence of his native Holland". Here he is showing a film and a series of photographs, a few triptychs and subtle images that are reflections on, amongst other things, the war in iraq, the influence of culture on youth, the consumerist mentality of america, and the pain of being a mother to a soldier at war. He speaks of these and of beauty in the next half hour. Accompanying him is Dave Botes, co creator of Hamburger Eyes which on the surface may seem quite different but also takes an intimate look at the society around us, its vulnerabilities, its strengths, its challenges and its unseen beauty. Hamburger Eyes Photo Magazine is a locally produced zine, a journal of images. In 2001 Dave and his brother Ray were busy taking pictures and after several years of zine creations, they decided to birth Hamburger Eyes with a friend and collaborator Stephan Simikich. The images range from transexuals revealing their newly formed chests to surfers catching high waves, drunken pigeons to drunken masters, all created in a documentary style, all from different parts of the world, all quite real and direct. I spoke with Ari and Dave and of course the head curator of Bay Area Now, Rene de Guzman. For more information about Bay Area Now 4, please visit www.ybca.org
On the island of Taveuni in Fiji there is a film house, an actual film house called 180 Meridian that could and has shown films. A few years ago, indie film maven John Pierson went to the island to visit 180 Meridian. He was the host and creator of split screen, a program on the Independent Film Channel that took viewers to the most remote film houses in the world. He fell in love with 180 Meridian and decided to bring his family there. His wife Janet and two kids, Wyatt and Georgia moved from NY to Taveuni for a year. In their last month their, filmmaker Steve James, of Hoop Dreams acclaim, came with his crew to film them and create a documentary about the Piersons, their comminuity in Taveuni, and the magic of 180 Meridian. It is Steve's portrait, his vision, of the Piersons, their acceptance within the culture, the friendships they formed, the challenges they had as a family, and the influence of the film house on a community that is so isolated from media culture. The film that was born is called Reel Paradise and it won official selection at sundance and south by southwest. Now it is opening tonight at the Lumiere Theatre in San Francisco for an exclusive one week engagement. I first spoke with Steve James and later the Piersons joined our conversation, Here, Steve talks about his previous experience in making documentaries. For more information about Reel Paradise, please visit www.reelparadise.com
Bay Area Now 4 is a celebration of local artists and their work and it happens every three years. The showcase happens at the inimitable Yerba Buena Center for the Arts and presents innovative, challenging, brilliant work from all mediums and backgrounds. This week I spoke with Chris Kubick and Anne Walsh, a couple who create work together and have collaborated on one of the few sound pieces in the show. Their pieces are titled Full Metal Jacket and Flesh + + Blood and are made up of small speakers, glass and a collection of sounds from their extensive sound archive, sounds of bullet shell casings, and sounds that relate to the words Flesh and Blood. I also spoke with Rene De Guzman, director of the Center and curator of this show. While sound invariably is connected to meaning through the inevitable identification of the sound, when taken out of context, the meaning becomes malleable and somehow changes. In this case, the sound of a fallen bullet shell casing becomes a melodious and ehtereal experience. Yet, when one takes into account what the sound actually is, a tension ensues and we begin to question the association we make between words and sounds. In this interview, we spoke about that tension, about identifying meaning, and the marriage between words and sounds. For more information about Bay Area Now, please visit, www.ybca.org. To learn more about Chris Kubick and Anne Walsh, please visit www.doublearchive.com
Turin Brakes, a young sprightly duo from London, just released their third album titled Jack in a Box. They never thought they would be in a band together, in fact, they never expected to even be known, touring the world with their music. Gale and Olly became friends many years ago and when Olly was making films, they wanted to create original music for the films. This music somehow seeped itself into the ether, and Turin Brakes was born. Their first album, titled the optimist, from which the tracks you hear in this show come from, was melodic, meditative album, simple in its instrumentation and hypnotic in its lyricism. Gale says of their new album, ""The whole record is simple and direct and up for it. Not morose. Much more about getting on with life. Being alive right now. That track sums that up. And literally, a jack-in-a-box is a box of tricks, this thing you open that's alive and exciting." You will hear them speak of their devoted fan base, of California, of music, of course, and here Gale reflects upon the differences between making music for films and creating music from an inner story line, one without visuals. For more information about Turin Brakes, please visit their website at, www.turinbrakes.com
This week, an interview with the organizers of the San Francisco Jewish Film Festival, Peter Stein and Nancy Fishman. I also spoke with filmmaker Ellen Flanders whose film Zero Degrees of Separation, a film that looks at the lives, the struggles, the convictions, and the loves of two couples living in Israel. Flanders has a history rooted in the formation of Israel, her grandparents played a strong role in its creation, and a few years ago, Ellen discovered the footage her grandparents had taken during that fateful year. Ellen is a queer filmmaker based in Toronto and New York, and she wanted to represent conflict through her own experience, through the life that she is familiar with. After finding the footage, Ellen discovered an article about a gay couple living in Israel, one was an Israeli Jew, the other was a Palestinian. Ellen decided to go to Israel and film two couples, one gay and one lesbian, who were involved in ethnically mixed relationships. The result is Zero Degrees of Separation, a brilliant documentary that takes a critical look at the Israeli/Palestinian conflict through the lens of these couples, their struggles, and their efforts to engender change in the politics of a country they both love and despise. Flanders takes a critical look at the creation of the state and the results of the conflict between Palestinians and Israelis which she does through an intimate portrayal, a reflection on dreams found and lost, on change necessary and inevitable. For more information about the the San Francisco Jewish Film Festival, please visit their website at, www.sfjff.com. You can learn more about Ellen Flanders' Zero Degrees of Separation at, www.zerodegreesofseparation.com
As a summer project, Sight Unseen has decided to look at different genres of music and offer a context about how that music was created, where it came from, and sometimes how it influences others. We have had two shows on jazz and this week we looked at ambient music. The term ambient music is quite often attributed to Brian Eno's realization in the late 70s that music could be either "actively listened to with attention or as easily ignored depending on the choice of the listener." Music that could be simultaneously unassuming or absolutely consuming, depending entirely on the attention of the listener, how they choose to locate themselves in the sonic space. Ambient music is a spacious music that does not assert itself outright with melody and vocals, but instead relies upon elements such as texture, atmosphere, repetition, and minimalism. This week, we will hear the music of Eluvium, Labradford, Aix Em Klemm, Brian Eno, Charles Atlas, Christopher Willits, and Oval.
KEITH JARRETT AND CHARLES MINGUS
Continuing with last week variation on the usual Sight Unseen format, we will again revisit jazz and pick two artists that represent the genre and give some important historical background on them. This time we will explore the sounds of Keith Jarrett and Charles Mingus. Although born approximately 20 years apart, the commonality between these two fantastic musicians and performers is that they were relentless in doing things their way. Thus the theme of the show this week is artists who refuse to compromise, even if it might mean never being successful. The magic however is that these artists were successful and the represent that holding true to your beliefs and convictions, your artistic integrity can bring you great success, all the more fulfilling because it comes from your soul..
This week and for a few shows this summer, I am going to be doing something slightly unconventional. In lieu of interviews, I am going to focus on a genre of music, this week, jazz. I will be offering up some of the classic greats, my favorite picks, and throw in some important history about the sounds we are going to be listening to. I have chosen to focus specifically on Miles Davis and John Coltrane. Miles Davis, trumpeter, composer, improviser, bandleader, painter, writer. Born in Illinois in 1926, Miles Davis is best known for having moved through a myriad of musical styles over his 30 plus year career. Kind of Blue is one of Miles Davis' most well known albums and is probably the one most often purchased by youngsters seeking to explore jazz music. John Coltrane was born and raised in North Carolina, he started playing saxophone in high school when he became interested in the works of Lester Young and Johnny Hodges. He moved to Philadelphia to study music, but was sidelined when he was called to duty during World War 2. He played sax for the navy band in Hawaii, and returned back to Philly where he began freelancing, often with Jimmy Heath and Dizzy Gillespie's band. One day Coltrane got a call from Miles Davis, asking ho to join his quintet, and this is where the Coltrane magic began..
ODC used to stand for Oberlin Dance Collective and although the performance space in San Francisco still goes by the name ODC, it no longer stands for the same thing. Oberlin is a college in Ohio filled with creatives, musicians, artists, dancers, writers, even economists. Needless to say, the roots of ODC rest in the aspiration for a space in which performers can explore and develop beyond their limits. That sensibility continues. In fact, ODC's main caveat is that it be a home for new work thus the work is constantly innovative, hoping to break new ground, or at least explore the ground that it currently stands upon. ODC's most recent show is called Migrations. Migrations explores the various aspects of choreography by having three choreographers look at three specific parts of choreography, namely choreographer as dance maker, choreographer as kinetic sculptor, and choreographer as director. I spoke with Rob Bailis ODC's theater director and co-coreographer of the show. For more information on the ODC, please visit their web site at www.odcdance.org.
Intersection for the Arts began 40 years ago, and since then has been producing and presenting some of the most ambitious and powerful project and artists alive. It is a multi-disciplinary space including literature, theater, art, music and something that combine all of these, aptly titled The Hybrid Project. One of the core beliefs of Intersection is integration of the arts and of the community. The Hybrid Project actually brings audiences and artists together, involving the audience in the creation of a piece that involves a myriad of performances from dance to spoken word, beatboxing to theatre. This coming month is special for the Intersection because in celebration of 40 years of work and intention the Intersection has produced, there are a series of special events. I spoke with Sean San Jose and Erika Schuh who both perform at Intersection. To learn more about the Intersection for the Art, please visit www.theintersection.org.
The title of the film is the Joy of Life and it tells the story of a young woman's longing for sweet sexual encounters, the poetry of bay area legend Lawrence Ferlinghetti, a history of the making of Capra's Meet John Doe, and a reflection on the creation and subsequent suicides off the Golden Gate Bridge. All of this is woven together with these glorious and unsuspecting shots of San Francisco, in blue skies, in fog, puddles, broken down buildings, old signs, convenience stores, things that could be anywhere, places that look beautiful here because of the light, because of Jenni Olson's love for the place. There is also a very intimate site of the film, a personal diary of Olson's very personal desires and an attempt to understand a friend's suicide by observing the history of suicide on the golden gate bridge. To learn more about the Joy of Life please click here.
A few years ago Abe Burickson and Matthew Purdon were both in a writer's workshop and as these sorts of things happen in workshops, they started talking about something that is of profound interest to them, both, art, and in this case, audience. Who is audience, and for whom is audience created? To reflect on this Burickson and Purdon chose one individual, learned everything about their lives and in a 24 hour art extravaganza, a group of artists created numerous pieces based on all the minute details they had learned about this person. They presented this work to him alone, and in doing so re-evaluated the idea behind audience and even behind creation. Since then Abe and Matthew have created a new piece called Locating the Borderlands.
For more information please click here.
To celebrate Sight Unseen turning 1, we are looking back at three interviews from the past 6 months. First, an excerpt from an interview I had with Nick Day and Maurizio Benazzo, creators of the documentary Shortcut to Nirvana: Kumbh Mela, a film about the largest gathering of people in the world, and a journey through the spiritual festival. Following that, the words of Kendra Kimbrough-Barnes, Sherell Washington, and Laura Ellis talking about the amazing Black Choreographers Festival entitled Here and Now. And finally, Amanda Micheli sharing her view on stunt women and reflecting on her documentary Double Dare.
Tracey Snelling has an incredible eye and she has the uncanny ability to recreate a world that we have seen many times and makes us feel like we are experiencing it for the first time. That is the basis of powerful work, to alter our perceptions, to make us discover something we haven't seen before, even if we think we have looked so closely. Tracey's work is influenced by film and landscape, books and architecture. She creates these models of corner shops, or apartment buildings or city streets, and she captures the mood of each of these, through smells, light and color. She then photographs these models and suddenly you can't tell whether you're looking at something real or created. A tension ensues, a confusion, an excitement at the magical transformation from reality to fantasy. I discovered Tracey's work at the Blue Room Studios in San Francisco. I was taken aback by the lushness of color, the exacting detail, the beauty and the banality. I spoke with Tracey Snelling upon her return from Chicago where she was busy putting up another show.
For more information about Tracey Snelling, please click here.
Founded in 1999, by theater artist and performer Danny Hoch, the Hip Hop Theater festival aims to invigorate the field of theater and Hip Hop by nurturing the creation of innovative work within the Hip Hop aesthetic and presetting and touring American and international artists whose work addresses issues relevant to the Hip Hop generation. This week I spoke with voices from the Hip Hop Theater Festival, namely executive director Clyde Valentin, Eisa Davis, writer/performer and niece of activist Angela Davis and Paul Flores, program director of Youth Speaks. We spoke about the nature and meaning of hip hop, where it's going, how it is theater, and the importance of its voice.
To learn more about the Hip Hop Theater Festival, please visit www.hiphoptheaterfestival.com.
Gamelan music is a term for various types of orchestra played in Indonesia. It is traditional Indonesian music and can be found in places like Java and Bali or even Berkeley. Sight Unseen contributor Franziska Hoering spoke with Midiyanto, leader of a famous, professional Gamelan ensemble in Indonesia and teaches Gamelan here at UC Berkeley.
To read more about Gamelan, click here.
Amanda Micheli seems to have always had an interest in the roles women play, roles that are most often reserved for men. Here first film, Just for the Ride, looked at women in the Rodeo. Amanda and I spoke about her most recent feature, a film titled Double Dare, which looks at the world of stunt women. Double Dare is the story of two women on opposite ends of the career and opposite ends of the planet, looking for the same thing, to be the stunt woman in an action packed film.
For more information on the film Double Dare, please visit the films web site at http://www.doubledarethemovie.com/.
Maria Marshall is a british artist who uses film as her medium and her young children as her main characters. She has made dozens of the films over the last 10 years and while she studied sculpture, she has found that film allows her to develop her ideas and dreams more effectively. Her latest piece is called Lollipop (in 200 Days I'll be 11) and according to the press release is a spaghetti Western-style film in 6 1/2 seconds. Shot on 35mm film, Lollipop captures Marshall's son, wearing tan make-up and painted on stubble, sucking on a lollipop. Looped and set to a mesmerizing score by Damon Albarn, of the band Blur, the film pays homage to Sergio Leone and Clint Eastwood's man-with-no-name persona. I spoke with Maria at Ratio 3 in San Francisco where we went over a collection of her films, watching them together as she explained to me how they were made and ultimately what they mean to her. For more information on Maria Marshall, please visit her web site at http://www.teamgal.com/marshall/.
FELIPE DULZAIDES AND DAVID PROWLER
Have you ever walked down the street and thought to yourself, I don't remember this being here, and realized it was there the whole time? You just weren't looking for it. Or have you looked at a space and thought that you had looked at that space many times and you know the space so well but in fact realized that there was so much in the space that you had missed. Well that's exactly what Double Take: A Billboard Project is all about, it's about making us pay attention to the things we don't always see and it's about making the ordinary become extraordinary, focusing on what may seem like an unimportant part of an outdoor space, and making it, well, important. But the other side of this project is the fact that the photographs are posted on billboards owned by Clear Channel. Billboards are rarely used for artwork, if ever, at least not in this country. Usually, billboards are for marketing consumer products, to sell something, and more often than not, the advertisement is far from artistic. In fact, it's almost intrusive. Felipe Dulza, a Cuban artist who travels between California and Arizona is the photographer. As he will explain, he goes to a space and studies it closely, finding what he says "makes sense." Felipe is doing this project in collaboration with city developer David Prowler. In fact, the project would be impossible without him. It is a collaboration and one that Felipe and David are so pleased to be doing. I spoke with Felipe and David this week.
To learn more about the project, please visit www.newlangtonarts.com.
"Irreducible : Contemporary Short Form Video," is the latest exhibit at the Wattis Institute in San Francisco. The show presents an international survey of video works by artists from over 20 different countries. Bringing together recent works that are structured around a single situation, action, or individual, the pieces in Irreducible re-visit and reinterpret the video works created in the late 60's and early 70's. Irreducible includes work from Romania, Scotland, Peru, Poland, Korea, Israel, and Norway. Ralph Rugoff, director of the Wattis Institute and curator of Irreducible, found these works as he was traveling to different art festivals around the world. Some of the work in the show is staged and has no sound, other works present moments in everyday life, pigeons eating seeds, a woman lying in the street in Cairo. And, according to Rugoff, each of these reveal something deeper about the culture and become a window for us to understand the places we only hear about through the ambiguous world of news. I spoke with Ralph Rugoff at the Wattis Institute galleries.
For more information about the show and the Wattis Institute please click here.
Lisa Kron's latest play Well, is hard to describe. According to the American Conservatory Theater, Well begins with OBIE award-winning writer/performer Lisa Kron performing a theater piece about her personal experience of healing. But soon an irreverent coup de'état breaks out onstage : the company of actors critiques the script, Kron's onstage flashbacks don't match her memories, and she quickly loses control. In fact, Kron likes this sort of loss of control, it creates the tension she believes is required to make a play work, there has to be a problem, one that asks to be resolved. Well is a play, it's a one act show and it is a reflection of how a play is created, constructed, and deconstructed. And it's about wellness, what it is to be well. I spoke with Lisa at the American Conservatory Theater here in San Francisco. For more information on the theatre and Well, please visit www.act-sfbay.org.
THE WILD PARROTS OF TELEGRAPH HILL
Mark Bittner wanted to be a musician when he moved to San Francisco during the hey day of the hippie movement. He moved from his home state of Washington to find his way not only as a musician but as a human being. One way he decided to do this was to become homeless, to live on the streets, and he did so for 15 years. While working an odd job, taking care of a home, he came across a parrot flying by, what seemed like a wild parrot, and he was immediately engaged. He soon discovered that these parrots lived in his neighborhood and this led him on a journey. For six years Mark fed, nursed and cared for a flock of wild parrots who lived near his North Beach crash pad. He gave them names, observed their lives, their relationships, their trials and travails, and became their friend. Filmmaker Judy Irving took an interest. Most of her films had been about nature, and with an interest in ornithology, she wanted to make a film about birds, but wanted one with a deeper story. When she heard of Mark, she went to see him and was surprised by what she saw. Thus the Wild Parrots of Telegraph Hill was born. Judy Irving is a Sundance and Emmy Award Winning filmmaker from the Bay Area. I spoke with Judy and Mark the week before the film opened in San Francisco.
To learn more about the film, click here.
THE BLACK CHOREOGRAPHERS FESTIVAL
The Black Choreographers Festival : Here and Now is back, and it is returning with a bang. Some of you might remember a festival like this one happening in 1995 and although the festival then was quite successful, challenges came that made it difficult for it to happen again. One of the dancers from that festival, Laura Ellis, joined forces with the founders of B-PAN, the Black Performers Art Network and the African and African American Performing Arts Coalition to develop this years festival. B-PAN was founded in 2002 by Kendra Kimbrough-Barnes and Sherell Washington, with the hopes of educating, networking, and supporting African American performing artists. Through public forums, professional development workshops, performances and emerging choreographer showcases, B-PAN does just that and the festival has become a strong reflection of their mission. I spoke with Laura, Kendra, and Sherell at the Malonga Casquelourd Center for the Arts where the festival is happening this weekend. For more information of the festival, please visit www.bcfhereandnow.com.
The large scale sculpture form has become increasingly less common, artists seem to not have the space, or even the flexibility in funds that once allowed them to make sculptures. However, the Yerba Buena Center for the Arts is providing a space to re-visit the concept of large scale sculpture and to understand our relationship to a large piece in a confined space. How does actual space availability affect the freedom artists have in the creation of their work? When confronted with larger pieces, how do we as a viewer interact with them, how do we experience them. We are forced to walk around the piece, observe our own size and our own self in relation to it. And how does changing the size or context of something completely alter our perception of it and thus our perception of the world around us. Big Deal & Blow Up at the Yerba Buena Center for the Arts attempts to address some of these questions. I had the pleasure of speaking with three of the artists in the show, Chris Taggart, Scott Snibbe, and Michael Arcega. For more information on the show, please visit YBCA.org.
Couch World, the latest novel from writer Cathy Yardley, tells the intricate tale of DJ and couch surfer PJ who lives free and plays music in the Bay Area DJ scene. Cathy Yardley herself was once part of this scene, one on the periphery, having lived in the Bay Area and fallen in love with the DJ scene here. That was one inspiration for her novel Couch World. Another was simply the idea behind the search for freedom, in what we do, how we think, how we ultimately fit in with the normal daily grind. Booklist calls Couch World "another winner from Cathy Yardley." For more information on Couch World and other upcoming works by Cathy Yardley, please visit her web site at www.cathyyardley.com.
EDDIE MULLER, ANITA MONGA, GARY MEYER & NOIR CITY
I spoke with the trio involved with the development and presentation on the now famous San Francisco Noir Film Festival, the most popular festival of its kind. Eddie Muller is the creator of Noir City, Anita Monga worked closely with Eddie to curate the festival. She also happens to be the former programmer of The Castro Theatre, and Gary Meyer is the director of the Balboa Theatre where the festival is being held, a movie house in the foggy and often un artsy district called the Richmond in San Francisco. We spoke about the film festival, about Anita Monga's departure from the Castro, what programmers do, and why are films important. For more information about Noir City, click here.
This week I spoke with typographers and curators, all presenting work at the Belle Lettres, meaning Beautiful Letters in French, at the SF MoMA. Several years ago, the SF MoMA started acquiring works of graphic design and began hanging these works on their walls. When did the cross over between design and art occur, and does there even exist a divide. I spoke about these issues with Jennifer Morla of Morla Design and Jack Stauffacher who operated the Greenwood Press in San Francisco since 1947. I also spoke with the curators of the show, Darrin Alfred and Ruth Keffler.
For more information about the exhibition, click here.
Chris Perez was a curator at the Whitney Museum of Art in New York and when he was working at the biennial, he decided to invite several artists from the biennial to create art for his own show, one that he would have at his home. It was a great success and while he's left New York, the tradition continues at Ratio 3, a gallery space that resides in a Victorian home in the Mission District of San Francisco. Since storefronts have become so expensive, the place where art is seen is evolving. I went to Ratio 3 to interview artist Conor McGrady and was fascinated to discover a re-contextualization of art work. Every 6 weeks, the room in Chris' house changes. In my eyes, the room or gallery itself becomes an ever evolving piece of art. To learn more about Ratio 3, click here.
New York based artist, Conor McGrady is interested in power, or rather the pathology of power that exists not only in humans but in architecture as well. In his work, McGrady refers to the power of the corporate world, the government, police, and even inanimate things such as buildings, jails, and housing complexes. An Irish Artist living in New York, Conor grew up in the strife of 1970's Northern Ireland, a witness and victim to the violence and state based oppression. I spoke with Conor in San Francisco, where he is showing a series of gouache paintings depicting portraits of injured people, wounded soldiers, paramilitary groups, and restrained civilians. McGrady's drawings are an attempt to call attention to the physical manifestation of power through austere depictions of the injured and those preparing to inflict injuries. Within the work, each wound represents how the State enforces its ideology by literally embedding itself physically into the bodies of those who attempt to resist it.
For more about Conor McGrady and his work, click here.
SOY Y QUE
Translated as "So What if I Am," Soy y Que is a phrase offered as a brassy response to remarks about the hybridization or bastardization of what is considered the "norm" of a particular community. Soy y Que is also a group exhibition of work by Chicano and Latino artists who are striving to articulate contemporary representations of Latino and Chicano art and identity through portraiture as genre and as metaphor. Race and cultural background, education, gender and sexual orientation are only a few of the topics addressed in this group exhibition of new Chicano and Latino voices including Jamex and Einar de la Torre of Ensenada and San Diego. I spoke with local artist Faviana Rodriguez, Los Angeles artist Shizu Saldamando, and co-curator of the show Berin Golonu. For more information on Soy y Que, click here.
AARON XIMM
With his work as Quiet American, sound artist Aaron Ximm hopes that he might draw out the beauty and emotive forces in the sound that we live with every day. Quiet American is the documentation and manipulation of sounds in the world, and the evocation of particular modes of being in the world. Quiet American is about the pleasure of serendipitous juxtapositions and the joy of discovery, it is hypnotism in the face of slowly changing textures and patterns, ultimately an environment for different thoughts. As well as presenting his own work, Aaron also curates an ongoing series of concerts in San Francisco called Field Effects, showcasing sound artists who work with found and quiet sounds. To learn more about Aaron Ximm, Field Effects, and Quiet American, click here.
The Kumbh Mela is the largest gathering of people in the world. It happens every twelve years in India and over 25 million people attend, sometimes as many as 70 million. The spiritual festival finds its home in Allahabad and many of India's greatest gurus and leaders set up camp to give discourses to their devotees. The festival culminates towards a bathing day where millions bathe in the spot where the Ganges and Yamuna rivers meet. The bathers believe that they are cleansing the sins of a thousand lifetimes thus securing a release from the endless cycle of rebirth and shortcutting their way to Nirvana. Maurizzo Bennazzo and Nick Day went to the festival in the hopes of creating a documentary and Shortcut to Nirvana was born. In the film we see Saddhus and Swami's. monks and devotees, and we take a journey through this festival with the filmmakers.
To learn more about the film or view a trailer, click here.
Blonde Redhead have been making music since the mid 90's when they came out with their first album Blonde Redhead on Sonic Youth drummer Steve Shelley's label Smells Like Records. Their most recent album Misery is a Butterfly comes after a four year hiatus, one marked by extensive touring and a censor inducing accident. The lead singer, Kyoto native Kazu Makino had her jaw crushed by a horse and now every time she walks through security at the airport, the sensors go off. Valiant and talented, she rises again with a voice stronger than ever. The band, most known for their dissonant guitar riffs, have moved in a new direction, a more keyboard oriented one, with clarinets to boot. They are also known for, according to one journalist, their bee sting art punk style although they hold true to not being music for intellectuals, they're not that pretentious. Blonde Redhead is now made up of two Italian twins, Amadeo and Simone Pace and singer Kazu Makino.
For a play list of Misery is a Butterfly, click here.
The Film Arts Festival is the only festival that showcases the best of Northern California makers, this year will feature 50 new films and videos. I spoke with filmmakers Erica Marcus, Adriano Bravo, and Dale Djerassi. Over the last 11 years, Erica has tracked the lives of five youths living in the Palestinian refugee camp Sahtila in Beirut Lebanon. This culminated in her film Alive in Limbo. Adriano Bravo walked into a blues club over 8 years ago and fell in love with unknown great Lady Margaret, thus Tell it Like it Is. And Dale Djerassi visited the Arctic Wildlife Refuge in Alaska to illustrate the dangers and perils of drilling and further devastation of pristine land and wildlife both in Alaska and beyond. I spoke with these three filmmakers in San Francisco the day the festival opened.
For more information please visit filmarts.org.
A fever dream, whirlwind journey, a personal work smeared with lipstick traces of David Lynch, a deathless swan dive into fractured memories. These are some of the ways Jonathan Caouette's film Tarnation have been described. It tells the story of Jonathan, his life documented from films he has been creating since he was 11 years old. Not only do the films tell a story of complete dysfunctionality, they also present us with a unique character, an actor of sorts, Jonathan himself, who used film as a means to depersonalize and understand his life and environment. To create Tarnation, Jonathan collected the tapes that he had made over the last 20 years and began to edit. Tarnation was born through Jonathan's iMac, in fact iMovie, for $214. It was discovered by Gus Van Sant and garnered numerous accolades including winner of Best Documentary at the Los Angeles Film Festival. To see a trailer and learn more about Tarnation, click here.
CAT POWER
Chan Marshall, aka Cat Power has been playing music for over 15 years, traveling for over ten. She rarely stays in one place, often on the road, playing in small towns and big cities, driving across the states and through other countries. In that time, she has formed a following that continues to grow. According to her bio, her giant fan base has tripled with each new record released. Cat Power has recorded six albums over the last 8 years. They include Dear Sir (Runt [Italy], 1995), Myra Lee (Smells Like, 1996), What Would The Community Think (Matador, 1996), Moon Pix (Matador, 1998) The Covers Record (Matador, 2000), and her most recent album You Are Free (Matador, 2003). I spoke with her in New York about You Are Free. For a full listing of Cat Power's music, visit Matador Records.
ROYA HAKAKIAN
Roya Hakakian is a reporter and documentarian. She is also the author of two highly acclaimed collections of poetry, the first of which, For the Sake of Water, received honorable mention in the Oxford Encyclopedia of the Modern Islamic World and was nominated as the poetry book of the year by Iran News in 1993. Her memoir of growing up a Jewish teenager in post-revolutionary Iran, Journey from the Land of No, was published by Crown in 2004. To learn more about Roya Hakakian and her work, click here.
THOM ANDERSON
Before coming to Cal Arts, Thom Andersen taught film history and filmmaking at SUNY Buffalo and Ohio State University. His films include Melting, Olivia's Place and Eadweard Muybridge, Zoopraxographer. His work with Noel Burch on the history of the Hollywood blacklist and the filmic writing of its victims has produced the book Les Communists de Hollywood: Autre chose que des martyrs (1994) and the videotape Red Hollywood (1995). His most recent epic film, Los Angeles Plays Itself, is a look at Los Angeles as character and place in films. For more information about Los Angeles Plays Itself, click here.
JOHN BALDESSARI
I first learned of John Baldessari when I was studying video art at Bard College. I saw one of his most famous videos entitled I am Making Art which continues to be screened, most recently at Pacific Film Archives in Berkeley. This interview is based on a show he curated with artist and colleague Meg Cranston. The show is titled 100 Artists See God and it was shown at the Jewish Museum in San Francisco. The curators asked a selection of 100 artists to depict their idea of God in their work. They were thus categorized into several different groups and here the curators explain how.
For more information on John Baldessari, click here.
WILLIAM EGGLESTON
William Eggleston described his early inspiration for making color photographs as watching "a continuous ribbon of small, oblong images" emerge from developing machines in photographic laboratories. "Who knows [who] took them, and who knows where, and for what reason. That became probably one of the most useful things...slowly watching these things emerge...It was one of the most exciting and unforgettable experiences as a whole...and educational for me." The Museum of Modern Art's groundbreaking one-man show of 1976, William Eggleston's Guide, established his reputation as the pioneer of modern color photography. It was also called the "most hated show of the year". Los Alamos was his most recent show at the San Francisco Museum of Modern Art. I spoke with Corey Keller who co-curated the show. To take a look at a selection of photographs by Eggleston, click here.
RENÉ GUZMAN
René de Guzman, Visual Arts Curator and Director, has been with the Yerba Buena Center for the Arts since August of 1992. One of the founding program staff members, de Guzman has been instrumental in establishing the artistic goals and vision for the Center. de Guzman curated a show, Beautiful Losers (2004) that looks at street and skate culture, from photographers to zine publishers, skaters to graffiti artists and asks the question, at what point does street art cross over into the mainstream art world? To see the work recently exhibited at the Center, click here.
WHAT THE BLEEP DO WE KNOW
Director Mark Vincente and scientist Fred Alan Wolf are two of the many people that made the film WHAT THE BLEEP DO WE KNOW possible. Through an unusual mix of documentary, narrative and graphics, What the Bleep Do We Know looks at the structure of our psychology and perception of reality through the study of quantum physics. One point amongst many that comes through is the notion that emotions are in fact chemical reactions within our brain that we are addicted to. For more information on What the Bleep Do We Know and to see where it is traveling, click here.
GLYN BUSH
These days the name Bush makes many of us cringe. Thankfully not all the Bushes in the world have that same adverse affect. There is a Bush who happens to bring great joy to people's lives, a Bush who knows how to inspire bodies to move, heads to spin, and maybe even souls to shake. His name is Glyn Bush, also known as Bigga Bush, an English musician come DJ who is touring the world and had a brief stay here in the Bay Area. To listen to some Bigga Bush tunes, click here.
DEE HIBBERT JONES & NOMI TALISMAN
Letters to an Unknown Friend is a collaborative artwork by Dee Hibbert-Jones and Nomi Talisman, a couple who work in somewhat different mediums but have found a common ground in this exhibition, a group show called Sacred Spaces. The project explores the concept of letter writing as a sacred act and incorporates a digitally modified typewriter and mixed media. For more information on Sacred Spaces, visit the Berkeley Art Center.
LEE STRINGER
Lee Stringer was an advertising executive when difficult times befell him and he was forced to become homeless. He lived on the streets from the early eighties until the mid-nineties. He is a former editor and columnist of Street News, a publication consisting of writings by homeless people. His essays and articles have appeared in a variety of other publications, including The Nation, The New York Times, and Newsday. He lives in Mamaroneck, New York. Lee is touring for his second book, Sleepaway School, and he had a stop in San Francisco. I had the pleasure of speaking with him for several days while he was here. To explore a site that Lee's fans in New Orleans created for him, click here.
RUSSELL BANKS
Russell Banks is the author of several books including The Sweet Hereafter and Rule of the Bone. He also is president of an organization called the International Parliament of Writers (IPW) which offers refuge to writers who have been exiled from their native countries, and helps them publish their works all over the world. Autodafe is a publication developed by the IPW of a selection of works by exiled writers. We discussed the fourth and most recent edition of AUTODAFE, and discussed the lives and futures of exiled writers here and beyond. To read an interview with Russell Banks, click here.
LARRY SULTAN
Larry Sultan has been taking photographs of California for several years, his photographs shown in museums all over the world. This particular exhibition offers a window into a less seen but all pervasive existence in California, that of the pornographic film industry. My interview with Larry Sultan was based on an exhibition of his work at the SF MoMA entitled Larry Sultan: The Valley in which he photographed pornographic film stars in San Fernando Valley Homes. These homes happened to be in the neighborhood where he grew up which raised an interesting relationship he had to the neighborhoods, the homes, and the memories therein. Some of the places he was shooting were just around the corner from where he grew up. To view images from Larry Sultan: The Valley, click here.
JOHN KILLACKY
John Killacky is the creator of several films including Love is a Hemorrhage, Necessary Action and Stolen Shadows. We spoke about his most recent piece entitled Dreaming Awake which tells the story of a disabled man's desires and fantasies of returning to dance. It headlined at this year's Superfest 24, the longest running disability film festival in United States. For more information on Dreaming Awake and Superfest 24, click here.
YO LA TENGO
The rock trio Yo La Tengo have been playing music publicly since 1984. They are a legend now in what has become known as inde rock, a term with which they don't necessarily identify. In the last twenty years, they have come out with over a dozen albums with titles like "And Then Nothing Turned Itself Inside Out," and "I Can Hear the Heart Beating as One." I spoke with Ira Kaplan at the Fillmore last week where he and his band were playing there for three nights in a row. To learn more about Yo La Tengo, please visit their web site here.
City in Exile was produced at WBAI in New York. Primarily produced by Matthew Finch, City in Exile became the first art show I contributed to and was the foundation for the kind of radio I want to do. Matthew Finch strove to create a show that was rich in sound, engaging in its content and revelatory in its choice of guests. We rarely tapped into the mainstream but we spoke with artists that were breaking boundaries, exploring the limits of their mediums, and offering a message that gave light to experience. City in Exile aired on WBAI Pacifica Radio on Friday afternoons from 2-3 p.m. EST.
T COOPER
T Cooper is the author of Some of the Parts. From Los Angeles, she transplanted to the East Village of New York and her book continues to garner attention. She went on an extensive book tour, visiting over 30 cities, traveling across the backgrounds of the country in a Van. Her book illustrates the lives of several families and attempts to redefine or expand the definition of family unit. To read excerpts of Some of the Parts and learn more about T Cooper's tour, click here.
ALICE SEBOLD
Alice Sebold is the author of The Lovely Bones and Lucky, a harrowing memoir. She was chosen by the Village Voice as a Writer on the Verge and has written for the New York Times and the Chicago Tribune. She lives in California with her husband, Glen David Gold. The Lovely Bones was on the New York Times bestseller list for several months. It tells the story of 14-year-old Susie Salmon ("like the fish") who is lured into a makeshift underground den in a cornfield and brutally raped and murdered, the latest victim of a serial killer -- the man she knew as her neighbor, Mr. Harvey. Alice Sebold's haunting and heartbreaking debut novel, The Lovely Bones, unfolds from heaven, where "life is a perpetual yesterday" and where Susie narrates and keeps watch over her grieving family and friends, as well as her brazen killer and the sad detective working on her case. As Sebold fashions it, everyone has his or her own version of heaven. To read a review about The Lovely Bones, click here.
BRANDON BALLENGÉE
The work of Brandon Ballengée bridges the gap between research biology and art. He expresses a fascination with fish and amphibians, mostly with deformations, through the techniques of art photography and drawing. In 1996, Ballengée began collaborating with scientists to create hybrid environmental art / ecological research projects. Since then he has had numerous exhibitions nationally and internationally in which he presents photographs and biological samples of the creatures he collects. He is involved directly with field research and uses the visual impact of science to engage the public in a discussion of broader environmental issues, ones that impact the lives and development of the amphibians he observes. To take a look at Brandon Ballengée's images, click here.
REGINA NEJMAN
Regina Nejman is a dancer / teacher and choreographer from Rio de Janeiro, Brazil, and is based in New York City. Since 1993, she has been creating her own choreography and in 1997 formed Regina Nejman & Company. Her work has been presented at Symphony Space Dance Sampler, Joyce Soho, the 2002 New York International Fringe Festival, New York Film Academy, Dance Theater Workshop, Dixon Place, Queens Museum of Art, the Merce Cunningham Studio, and Context Studios. For more information on Regina Nejman's work, click here.
JAMES LONGLEY
James Longley was born in the Oregon in 1972 and received a film education at the University of Rochester and Wesleyan University in the United States, and the Russian Institute of Cinematography (VGIK) in Moscow. His film Gaza Strip pushes the viewer headlong into the tumult of the Israeli-occupied Gaza, examining the lives and views of ordinary Palestinians living extra ordinary lives. For more information and to see a trailer of Gaza Strip, click here.
JOHN WALTER
John Walter is the creator of the film How to Draw a Bunny. How to Draw a Bunny looks at the life and mysterious numerological death of artist Ray Johnson. In the film we hear accounts from colleagues such as Roy Lichtenstein, Christo, and Chuck Close. John Walter is working on a new documentary about, amongst other political debates, the first amendment. To read a review of John Walter's How To Draw a Bunny, click here.
RAM DASS
Ram Dass, formerly known as Richard Alpert, was once a Harvard professor along side Aldous Huxley and Timothy Leary. One night, when trying a pure former of LSD with his colleagues, he visualized himself disappearing, his identity and body both slipping away, and found that without a body, something more profound remained. In a quest to find out what that might be, he went to India and studied under Neem Karoli Baba, affectionately known as Maharaji who gave him the name Ram Dass, which means Serve God. After his return, he became a guru to many, offering lectures and writing books, one of them being the groundbreaking "Be Here Now". In 1997, Ram Dass fell victim to a powerful stroke that forced him to realize that accepting the possibility of death was far more difficult than he had initially assumed. A film by Mickey Lemle called Fierce Grace follows his journey through rehabilitation and the path to freedom from the fear of death. For a listing of lectures and events lead by Ram Dass, click here.
LEONE ROSS
Leone Ross was born in Coventry, England, on June 26 1969. She grew up in Jamaica, and studied at the University of the West Indies and at the City University in London, where she now lives. She has worked as a journalist for The Voice newspaper in London and as a researcher for LWT as well as contributing to a wide range of magazines and newspapers in Britain and America, including The Guardian and The Sunday Times. In 2000, she received a London Arts Board Writers' Award. Leone Ross teaches creative writing and was a Fellow at Trinity College in Dublin in 2001. Presently she works as an Associate Lecturer at Cardiff University, Birkbeck College and the City Literary Institute. She is the author of two novels, All the Blood is Red (1996) and Orange Laughter (1999). For more information on Leone Ross' work, click here.
ANNIE WANG
Annie Wang was born in 1972 and grew up in Beijing. She came to the United States in 1993 and graduated from the University of California, Berkeley, in 1996. She worked in The Washington Post's Beijing bureau before becoming a contract interpreter for the U.S. State Department. She has published several books in China; Lili is her first book written in English. Kirkus Reviews says that, "[Lili is a] compelling account of the emotional and political awakening of a tormented young Chinese woman who grew up during the Cultural Revolution." To learn more about Annie Wang and her more recent work, click here.
ANIKA NAILAH
Anika Nailah is the director of Books of Hope, a program that encourages young people to write and self-publish their own books. Her stories have appeared in several African American newspapers, including Reunion and Flare. I interviewed her about her book Free and Other Stories. This book and Nailah's experience of people's reactions inspired her to create forums for various ethnic groups to meet and discuss the ways to open the avenues of communication about race and creativity. Anika Nailah lives in Massachusetts. To learn more about Free, click here.
ALEX GREY
The New York Times says about Alex Grey's work, "Mr. Grey's paintings, as detailed and anatomically accurate as medical illustrations, present man as an archetypal being struggling toward cosmic unity...Grey's vision of a flawed but perfectible mankind stands as an antidote to the cynicism and spiritual malaise prevalent in much contemporary art." Artforum says that "...it is only Grey's inquisitiveness, his desire to understand the cosmic metastructure of humanity, that drives him to such a rigorously detailed account of the typically unseen." Alex Grey is a painter, illustrator, poet and visionary. He has also built a temple of sorts called the Chapel of Sacred Mirrors in New York. For more information and events, click here.
ERIC DROOKER
Eric Drooker's paintings are seen on covers of The New Yorker, The Progressive, The Village Voice and numerous other magazines, as well as books and music albums (Rage Against the Machine). They have also covered the streets of New York and the Bay Area. He is the author of Flood! A Novel in Pictures, Illuminated Poems (with Allen Ginsberg), Street Posters & Ballads, and Blood Song: A Silent Ballad. He gives slide lectures at schools and cultural centers worldwide. Eric is a third generation New Yorker, born and raised on Manhattan Island. But he has now succumb to the beauty of the west and lives in Berkeley, California. Blood Song tells the story, through image, of a young girls travails as she is forced out of her pristine homeland and moves to the city where she makes another kind of home for herself. To take a look at the posters and images by Eric Drooker, click here.
ROXY PAINE
Roxy Paine was born in 1966 in New York, where he currently lives and works. He attended the Pratt Institute, Brooklyn and College of Sante Fe, New Mexico. When he moved to Williamsburg, NY he and several other artists created a community, doing work together and having collaborative exhibitions. This was a wild time in Williamsburg, before the influx of artists which now make it the place with highest number of artists per capita in the world. As Roxy Paine's art developed, he became interested in fungus, funky fungus, and began making these highly intricate installations of various species of fungi. He also created a machine that holds a heavy canvas and dips it into paint several times, creating a textured relief like painting in the end. For more information and images on Roxy Paine's work, click here.
AMY BLOOM
Amy Bloom is the author of a novel, Love Invents Us, and two collections of stories: Come to Me, nominated for a National Book Award, and A Blind Man Can See How Much I Love You, nominated for the National Book Critics Circle Award. Her stories have appeared in Best American Short Stories, Prize Stories: The O. Henry Awards, and numerous anthologies here and abroad. She has written for the New Yorker, the New York Times Magazine, the Atlantic Monthly, Vogue, Slate, and Salon, among many other publications, and has won a National Magazine Award. Her first book of nonfiction, Normal: Transsexual CEOs, Crossdressing Cops, and Hermaphrodites with Attitude, tells the stories of crossdressers, transsexuals, and hermaphrodites and the myriad of issues they face and the amazing similarities they have to each other. A practicing psychotherapist, Bloom lives in Connecticut and teaches at Yale University. For a deeper look at what is Normal, click here.
BOBBY WHITLOCK
"Though he's best known as a member of the short-lived but groundbreaking group Derek and the Dominoes with Eric Clapton, Whitlock has had a very impressive musical career apart from the band. Raised in Arkansas and Memphis, by the time he was a teenager he was playing on many of the sessions at the legendary Stax Studios and was in fact the first white artist signed to Stax Records. With a soulful voice soaked in gospel, R&B, and blues and accomplished keyboard skills, it was only a matter of time before the limelight found him." (Rob Caldwell, All Music Guide) Here he is performing and is in conversation with his partner Kim Carmel. To listen to Bobby Whitlock and Kim Carmel's music, visit here.
ALLEN COHEN
Allen Cohen was born in 1940 in Brooklyn, New York. He has written two groundbreaking books of Poetry Childbirth is Ecstasy and the Reagan Poems. In 1990 he produced a compilation of the Oracles as The San Francisco Oracle Facsimile Edition. In 2002 he edited an anthology of poems on 9/11, An Eye For An Eye Makes The Whole World Blind, with his friend and collaborator Clive Matson. Sadly, he passed away in April 2004. To learn more about An Eye For An Eye Makes The Whole World Blind and read a poem from it, click here.
FREDERICK WISEMAN
Frederick Wiseman was a lawyer and professor when he took his students to see the hospital for the criminally insane called Bridgewater in Massachusetts. Shocked at the conditions, he decided to bring a camera into the facility. He was allowed to film what he saw without censorship and the result was the highly acclaimed Titicut Follies. Titicut Follies caused such a stir that it was banned in Massachusetts for over two decades. It inspired Wiseman to go on and make films about other institutions including High school, Welfare, and Hospital. I spoke with Frederick Wiseman about his most recent documentary, Domestic Violence. For a full listing of films by Frederick Wiseman, click here.
GABE HUDSON
Gabe Hudson received his MFA from Brown University, where he was awarded the John Hawkes Prize in Fiction. His fiction has been published in The New Yorker and McSweeney's. He has received the Sue Kaufman Prize for First Fiction from the American Academy of Arts and Letters, and was a PEN/Hemingway Finalist. His book Dear Mr. President has been called "surreal" and "disturbingly funny" and is a darkly comic fictitious look at the Gulf War and its repercussions. He started a huge letter campaign to the President and several of these letters have been published here. He lives in New York City. To learn more about Dear Mr. President, click here.
© 2008 All Rights Reserved.